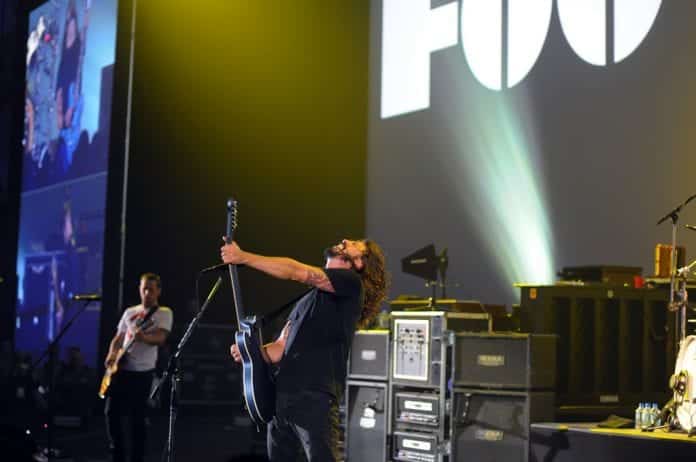 Frontman of Foo Fighters, Dave Grohl has spoken about the death of singer Chris Cornell.
The Foo's recently revealed details of their CAL JAM 17 festival which is taking place on October 7th. The rockers will take to the stage in Glen Helen Regional Park in San Bernardino, California alongside Liam Gallagher, Queens of The Stone Age, Wolf Alice, Royal Blood, The Kills and more.
Speaking to Rolling Stone about the festival, Grohl said, "A lot of them are drinking buddies. And some I've never met. I can't wait. It's gonna be fucking fun."
He also revealed that the Foos had asked Soundgarden to play at the event before Cornell passed away in May. "We wanted to have Soundgarden. They had agreed to do it. And, um… it didn't happen," Grohl said.
Speaking about his personal relationship with Cornell, Grohl said that he "loved" Cornell, "He was a really sweet guy. Full of life. And he had so much to offer. That one hurt. Over the years you sort of count your blessings that you survived, and when you see another one go down…"
He continued, "I felt for his family, and I felt for his band, you know? Because that's a long road, man… Every time it happens, the same feeling comes up. It's shocking and confusing and I just don't get it. You get into this with a love of music, and sharing it with people, and you hope everybody feels the same way. I know it's more complicated than that… but, fuck. It just sucks."
"But, yeah, I've always felt like the most important thing is just to get home safe. You just gotta keep on keeping on."
If you or anyone you know needs help, contact The Samaritans free on 116 123.
PhotoCredit: Scott Barlow