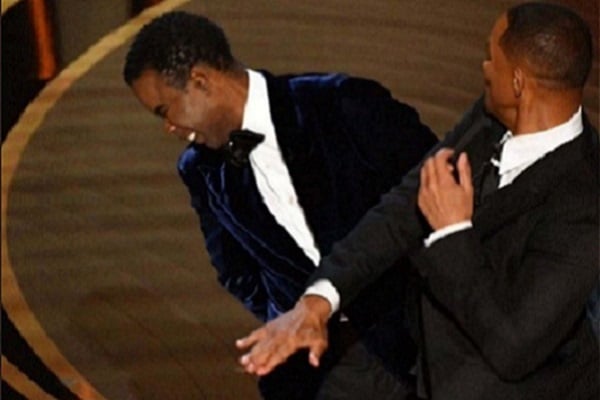 It may have been a year ago, but Chris Rock has insisted that the slap he received from Will Smith at the 2022 Oscar's ceremony "still hurts". 
At the 2022 ceremony, Chris Rock was presenting an award, where he also joked about Will Smith's wife's baldness. Jada Pinkette Smith was diagnosed with alopeacia in 2018.
Following this, Smith stormed onto to the stage, before slapping Rock in the face, later shouting "get my wife's name out of your f***** mouth". 
A few weeks later, Rock stated that he was still processing what happened, however "At some point I'll talk about that s*** – and it will be serious and funny", he said last March. 
"Summertime ringing in my ear"
Over the weekend (March 5), Chris Rock spoke frankly about the incident during his Selective Outrage on stage Netflix show at the Hippodrome Theatre in Baltimore.
"Everybody knows it happened. I got smacked a year ago. I got smacked at the Oscars by this motherf*****", Rock said of the row with Smith. "And people are like, 'Did it hurt?' It still hurts. I've got 'Summertime' ringing in my ear". 
Rock also insisted that he "wasn't a victim. You'll never see me on Oprah crying. Never going to happen. 'I couldn't believe it, and I loved Men In Black'. Nope! F*** that s***, I took that hit like [boxer Manny] Pacquiao. 'Did it hurt?' Yes motherf*****, it hurt". 
"I know you can't tell on camera, but Will Smith is significantly bigger than me", the comedian added. "He does movies with his shirt off. You've never seen me do a movie with my shirt off. Will Smith played Muhammad Ali in a movie. Do you think I auditioned for that part?". 
Chris Rock also explained why he did retaliate after Smith struck him.
He said, "because I got parents. Because I was raised. You know what my parents taught me? Don't fight in front of white people". 
"Nobody was picking on her"
Elsewhere, Chris Rock claimed that Jada Pinkette Smith had previously asked him to step down from hosting the Oscars in 2016, after her husband missed out on a nomination for his role in Concussion.
Rock who had described the film as "the biggest piece of s*** ever", told the audience, "So I made some jokes about it", adding, "That's how it happens, she starts it, I finish it. Nobody was picking on her". 
He added, "I loved Will Smith my whole life. I saw him open up for Run DMC, [DJ Jazzy Jeff And The Fresh Prince] made brand new funk. He's made some great movies. I've rooted for Will Smith my whole life. And now I watch Emancipation just to see him get whooped". 
Less than 24 hours: @ChrisRock: Selective Outrage
Netflix's First Live Global Event #ChrisRockLive pic.twitter.com/fpfeqTjq6S

— Netflix Is A Joke (@NetflixIsAJoke) March 4, 2023
Speaking of Emancipation, Will Smith was recognised for his work on that movie at the African-American Film Choice Association Awards last week, in what was his first on stage appearance at an awards ceremony since his row with Rock.
More on this here.