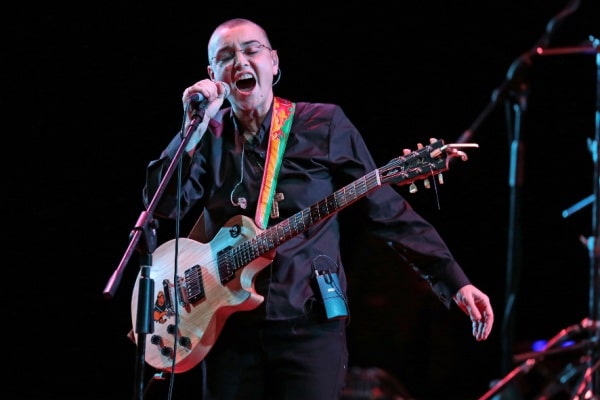 Would you like to listen to the article instead of reading it?
A heart warming tribute was paid to the late Sinéad O'Connor on an Irish clifftop in Bray ahead of the singer's funeral today.
O'Connor passed away last month, after being found unresponsive at her home in London. She was 56 years old.
"It is with great sadness that we announce the passing of our beloved Sinéad. Her family and friends are devastated and have requested privacy at this very difficult time", her family said in a statement at the time.
"Éire"
Ahead of her funeral procession, a wholesome tribute was paid to Sinéad O'Connor, with a special message reading over the clifftops along the coast of Bray.
The message read the word 'Éire', alongside the name 'Sinéad' with a love heart. This heart warming moment took place just before the funeral cortege, where fans gathered to pay tribute to the late singer one last time.
On the day itself, while there was a feeling of overwhelming sadness and grief among the thousands who gathered in Bray, the rebellious side to Sinéad O'Connor also came to the fore.
Some fans stood wearing t-shirts and holding up banners with photos of O'Connor infamously tearing up the photo of the Pope on Saturday Night Live in 1992.
An act which O'Connor had called a protest against sexual abuse in the Catholic Church.
Elsewhere, survivors of the Mother and Baby Homes also stood outside the singer's former home in Bray (see below), paying homage to her tireless work in demanding justice for causes which many others kept silent about.
You can also look at more photographs from the late singer's funeral from today here.
Friends and family of the late singer followed behind the hearse, including Irish singer Bob Geldof.
President Michael D Higgins also paid tribute to Sinéad O'Connor.
"The outpouring of grief and appreciation of the life and work of Sinéad O'Connor demonstrates the profound impact which she had on the Irish people", he said.