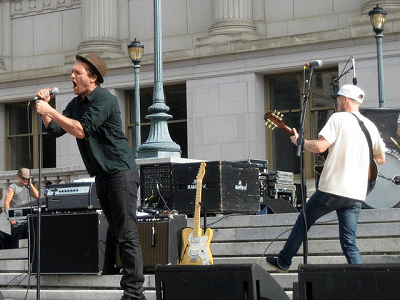 Cold War Kids have announced details of their fifth studio album titled Hold My Home, due out on October 21st.
News of the album might come as a surprise to some, only last year Cold War Kids put out the album Dear Miss Lonelyhearts.
The band is made up of Nathan Willet (singer), Dann Gallucci (guitar), Matt Maust (bass) and Matt Aviero (drums). They burst onto the scene with their debut album Robbers & Cowards in 2006.
The 11-track LP was recorded in San Pedro, California at their own studios and was produced by guitarist Dan Gallucci.
The group are streaming their new track, which you can listen to below.
Speaking about the album, singer Nathan Willett says, "You've moved every year or two since you were 18. Home is no longer an actual place you return to. It's ephemeral; it's where you go in your memory to recall friends, your identity, your version of family. You can't touch or hold on to it, but you can feel home anywhere. But where are your roots now? Sometimes I wish that I could stop time and hold my home where the seasons never change."
The Californian rockers put out the single, All This Could Be Yours in July, Consequence of Sound called it "an accessible, radio-ready banger". Watch the video for below.
There will be some European dates released soon.
Hold My Home track list:
1. All This Could Be Yours
2. First
3. Hot Coals
4. Drive Desperate
5. Hotel Anywhere
6. Go Quietly
7. Nights & Weekends
8. Hold My Home
9. Flower Drum Song
10. Harold Bloom
11. Hear My Baby Call