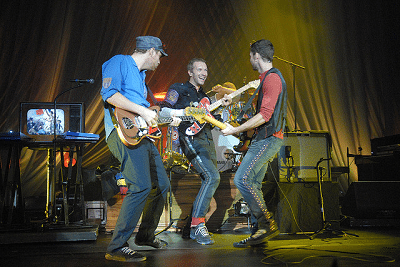 Coldplay have donated €12,600 to a fan suffering from Motor Neurone Disease.
Jody Duff, 37, was shocked to discover the money on his JustGiving Page, a charity support site for online donations. He is raising money for the MNDA (Motor Neurone Disease Association), and all money goes towards research into the disease.
He was diagnosed with the crippling disease in 2004 but continues to work as an IT technician at a school.
Last week, Duff attended the band's show without knowing that a friend had written to tell Coldplay about his struggle with the illness.
Upon reading the letter, Coldplay invited Duff back the next night to their second concert in the Royal Albert Hall, meeting him backstage and dedicating the track 'Fix You' to him. "We just want to send him, from us and from all of you, as much love as we possibly can," Chris Martin told the London crowd.
Speaking about their backstage meeting, Jody said: "Chris was genuinely interested in learning about motor neurone disease."
On Duff's JustGiving page it states: "MND can affect any adult/any age. I'm doing this for Motor Neurone Disease Association because MNDA & MND research is NOT government funded!"
Jody's target is to raise €31,600, he has already raised over €25,000
Check out the video of Chris Martin's dedication to Jody below.