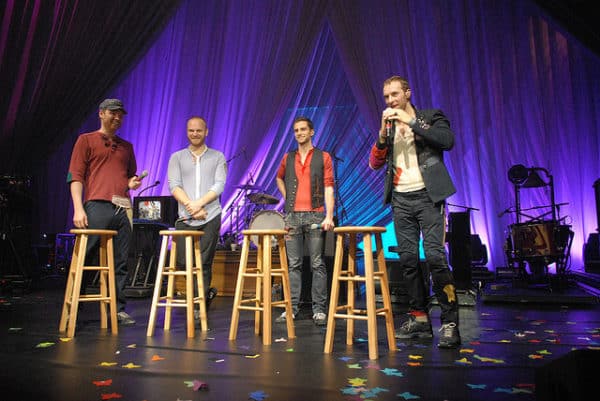 Coldplay took a break from the recording studio to attended the opening of the 'Ghost Stories' artwork exhibition by Mila Furstova.
Chris Martin and the lads were there to support the charity exhibit, with proceeds from the event going to help disadvantaged children.
The British-based Czech artist Mila Furstova, created Coldplay's album artwork for Ghost Stories. She's known for her meticulous and detailed etching pieces.
Coldplay's LP cover features a pair of angel wings imposed onto a painting of an ocean under a sky at night.
If you look closely you'll see a couple in love, white doves in flight, a girl by candlelight, a man looking into a mirror and many other images etched into the record cover.
Coldplay attended the charity show in London last night (December 3rd), with all profits from the sale going to Kids Company.
Speaking about Furstova's work, Chris Martin said: "Sometimes a piece of art looks exactly like you think your song sounds. On 'Ghost Stories', Mila somehow managed this time and time again. Her etchings showed exactly what we were trying to say."
At a similar charity event for their 2011 album Mylo Xyloto, €950,000 was raised for Kids Company.
Kids Company CEO Camila Batmanghelidjh said: "For the children of Kids Company, Coldplay are real superheroes whose genuine philanthropy has helped change their lives for the better. If you are looking for magic, this band generates it on all levels."
Coldplay unveiled their latest track titled 'Miracles' in a new advert for Sky Movies' Christmas channel.
The song was written and recorded for the upcoming film 'Unbroken', directed by Angelina Jolie, which is due to be released around the Christmas period.