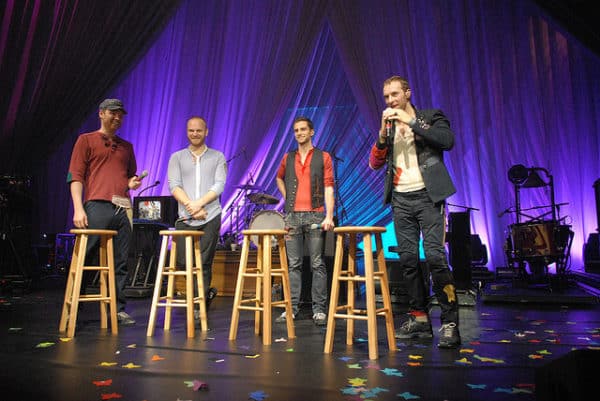 Coldplay's frontman Chris Martin chats about their new album and announces that there's a big year ahead planned for the band.
The group's seventh studio record is titled A Head Full Of Dreams, Coldplay describes it as their 'final chapter'.
It's been less than a year since their last output Ghost Stories, but the lads aren't wasting any time getting back into the studio.
Earlier this week, Chris Martin was chatting with music aficionado Zane Lowe, on BBC Radio 1, spilling the beans on Coldplay's forthcoming album.
Martin said "We haven't told anyone this. We're making an album called 'A Head Full of Dreams'. We're right in the middle of it and because it's you (Zane Lowe) and Radio 1, this feels like, Ok I'll tell you!"
"It's our seventh thing and the way we look at it is like the last Harry Potter book or something. Not to say there might not be another thing one day but this is the completion of something."
"It was great to go from Ghost Stories to go right back into the studio and now we're making things that sound different. I have to think of it as the final thing we're doing otherwise we wouldn't put everything into it. Then we will go on tour."
The frontman has now revealed more details to Radio 2 DJ Jo Wiley.
Chris said: "You know Harry Potter and things have instalments, and you know we just made an introspective record and didn't really do much around it," he said. "Secretly we may have something else in mind, but I accidentally told Zane [Lowe] about it."
"We're trying to make something colourful and uplifting and we're just having quite a good time making it because we've spent so long not making that kind of thing."
The band have a small part of A Head Full Of Dreams written, "We know what the name of it is and that's about it, and some of the songs."
Drummer Will Champion said: "We've got a big year planned next year in terms of recording, it's all mapped out."