Ladbrokes has teamed up with acclaimed international sand artist Sean Corcoran to create a striking sand portrait of first-time 'Best Actor' nominee Colin Farrell ahead of the 95th Oscars this Sunday, 12th March.
The sand portrait of the Dublin actor was installed on Keem Bay, Achill, Co.Mayo, the beach which has become globally recognisable from scenes in the Oscar nominated 'The Banshees of Inisherin', in which Farrell stars alongside fellow award nominees Brendan Gleeson, Barry Keoghan and Kerry Condon.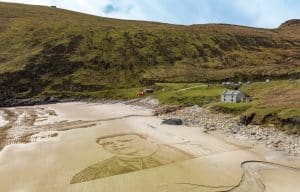 There is widespread excitement across the country this week ahead of the Oscars with Ireland nominated in a record fourteen categories and this portrait seeks to represent the rich support among the Irish nation for Colin Farrell, 'The Banshees of Inisherin' and all other Irish Oscar nominees.
Nicola McGeady of Ladbrokes said, We are delighted to have collaborated with the very talented Sean Corcoran on this incredible sand art installation to show our support for Colin Farrell, 'The Banshees of Inisherin' and indeed all Irish nominees ahead of the Oscars this weekend. I think I speak for the entire nation when I say we are immensely proud and firmly behind our native stars for Oscar glory. Here's to a great night for the Irish in Hollywood!
Farrell can be be currently backed at 12/1 to win for his role in the film while fellow Irishman Paul Mescal is at 50/1.
The 'Banshees of Inisherrin' film itself is now a serious contender for 'Best Picture' with odds at 12/1, making the drama third favourite behind 'Everything Everywhere All At Once' at 1/7 and 10/1 for "All Quiet On the Western Front".
Gamble responsibly see www.gamblingcare.ie