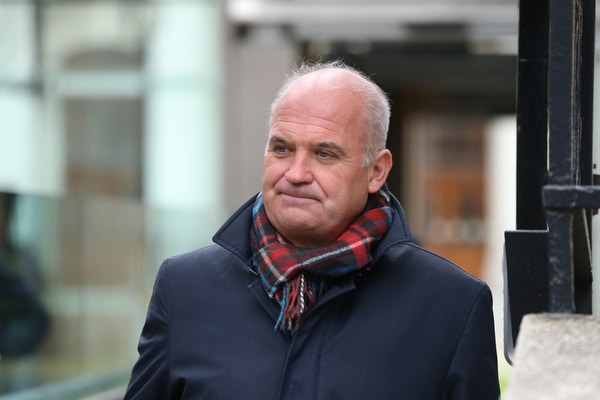 Protestors gathered outside the family home of the CMO Dr Tony Holohan, holding up anti-vaccine signs.
A small crowd of around 14 people werd later dispersed after Gardaí arrived at the scene.
Dr Tony Holohan has worked as the Chief Medical Officer since 2008 and has chaired NPHET since the beginning of the pandemic.
He left his post temporarily in July 2020 after his wife Emer Feely was placed in pallative care. She passed away in February this year, having been fighting blood cancer since 2012.
"Gardaí were alerted"
In a statement on this gathering outside the CMO's home in Terenure, Gardaí said, "Gardai were alerted to a number of protesters outside a residence in Dublin this afternoon Sunday 3, October, 2021 at approximately 1pm".
They also added, "Gardai attended and the protest ended without incident at 2.30pm".
This gathering outside Dr Holohan's home, comes after known anti-vaccine protestor Gemma O'Doherty was handed down a two month suspended sentence for public order offences last week. She was fined €750 and found guilty of threatening and abusive behaviour.
Garda Andrew Sullivan also told the court that O'Doherty verbally abused him and his colleague during her arrest. She also refused to give them her name and address.
O'Doherty had allegedly said that they "were traitors to the Irish public". He also added that she accused them of being "complicit with cover-up of paedophilia, and in the cover-up of murder".
"She said we would get the sack and she said our pensions would be gone", Sullivan added.
When passing sentence, Judge David Kennedy said that the levels of abuse hurled by O'Doherty was "atrocious and they were said deliberately".
O'Doherty was arrested at the N11 footrbridge, Wicklow. Along the bridge, signs also read "masks spread virus" and "no forced vaccines".
She was handed that two month suspended sentence and fined €750 at Bray District Court. The former journalist does plan to appeal that conviction. More on this Nova report here.
Dr Holohan on vaccines
Speaking of vaccines, Dr Holohan re-emphasised the importance of getting vaccinated over the weekend via Twitter.
https://twitter.com/CMOIreland/status/1444258557529141251
https://twitter.com/CMOIreland/status/1444258659786178561