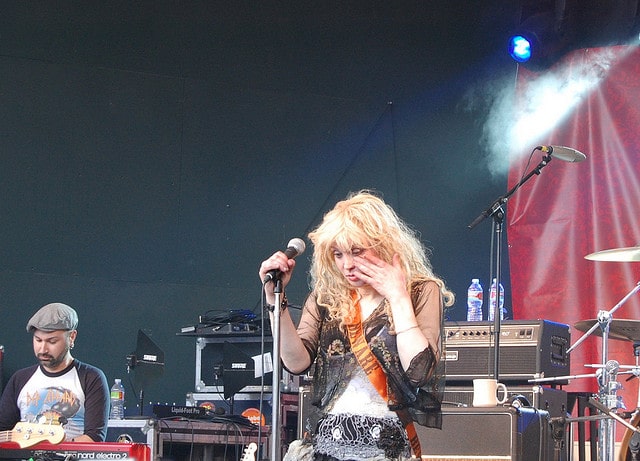 Kurt Cobain's widow Courtney Love admitted to using heroin while she was pregnant with with her daughter Frances Bean.
It has been a topic that has followed Courtney around for a long-time, due to Kurt's increased use when Frances was very young.
She protests that even though she was using smack during her pregnancy, she "knew she would be fine".
The shocking confession was revealed in the new documentary about her late husband titled 'Kurt Cobain: Montage of Heck'.
Courtney says: "I used it once then stopped. I knew she would be fine."
The movie is named after the singer's recently unearthed mixtape, it has the approval and support of the Cobain family.
The fully authorised piece has been in the works for years and is produced by Kurt's daughter Frances Bean.
Rolling Stone describes the film as a "Personal, no-holds-barred portrait of Nirvana's leader via his own words."
The movie includes a scene where Kurt confesses he doesn't want Frances to live the same life he did: "I don't want her to be screwed up."
Director Brett Morgen explains that eight years of preparation have gone into the film. "I started work on this project eight years ago," he said in a press release. "Like most people, when I started, I figured there would be limited amounts of fresh material to unearth."
"However, once I stepped into Kurt's archive, I discovered over 200 hours of unreleased music and audio, a vast array of art projects (oil paintings, sculptures), countless hours of never-before-seen home movies, and over 4,000 pages of writings that together help paint an intimate portrait of an artist who rarely revealed himself to the media."
Courtney and Frances were recently pictured together at the premiere of 'Kurt Cobain: Montage of Heck' at the 2015 Sundance Film Festival
The sighting of mother and daughter at the screening was a rare sight, as the pair haven't been seen together in five years