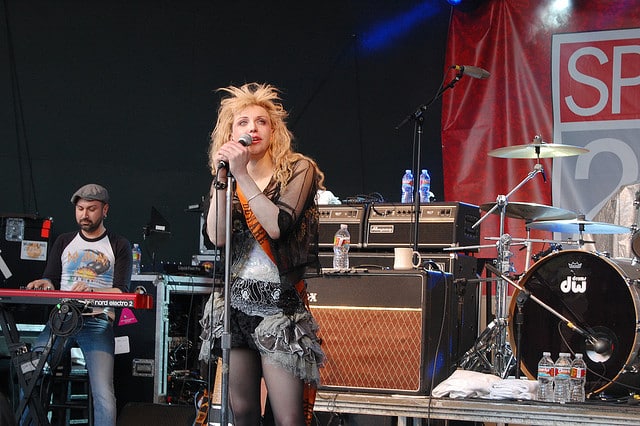 There has always been a rocky relationship with Kurt Cobain's widow, Courtney Love, and Foo Fighters frontman Dave Grohl.
However, the tensions now seems to be easing between the two musicians, she says she has made amends with Dave and that the pair are now "totally tight".
Speaking on the American late-night chat show 'Jimmy Kimmel Live,' Love happily admitted the rock duo have put their differences behind them.
Earlier this year, the pair made up at Nirvana's induction into the Rock And Roll Hall Of Fame, by hugging each other on stage.
Love said: "Dave and me, a lot of people saw the Rock and Roll Hall of Fame where we hugged it out, and it's all good… We used to really like each other, and then there were 20 years when we sued each other, and then we stopped."
"The other night we started talking about this one actress's boobs, we'd both seen them and… at one point when she was 20 they were the sexiest boobs in Hollywood. He'd seen them, I'd seen them, and we just picked off where we left off after 20 years of sueing each other. And now we're cool, we're totally tight!"
Last week, Foo Fighters released their brand new album titled Sonic Highways. The 11 track record clocks in at 44 minutes and features a number of guest appearances, including Cheap Trick's Rick Nielson, Death Cab For Cutie's Ben Gibbard and The Eagles' Joe Walsh. Nielson played guitar on their first single 'Something From Nothing'.