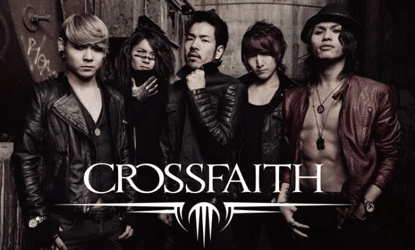 Crossfaith will play Live at The Academy Green Room on Sunday, October 21
st.
Crossfaith, a five-piece metal-core band based in Japan formed in 2006 when singer Kenta Koie, guitarist Kazuki Takemura, and turntablist Terufumi Tamano all played together in a nü metal cover band.
Intending to start an original project that mixed hard electronics with extreme metal, the three members recruited bassist Hiroki Ikegawa and drummer Tatsuya Amano and began writing and performing around Japan as Crossfaith.
They released their debut EP, Blueprint of Reconstruction, in 2008 and quickly followed up with their first LP, The Artificial Theory for the Dramatic Beauty in 2009 on Japanese label Zestone Records.
In 2011, North Carolina-based label Tragic Hero Records released the band's second album, The Dream, the Space, to the U.S. market, further expanding Crossfaith's international appeal. The rockers then went on to sign with European label Search and Destroy in 2012, releasing the Zion EP.
Crossfaith's third album, Apocalyze, was released in late 2013. Bolstered by singles The Evolution and We Are the Future, the band continued to evolve their electronicore sound, reaching an even larger international audience and performing overseas with their 2014 single, Madness, marked a slight shift in sound, streamlining the band's combination of hardcore and electronica with cleaner arrangements and more singing.
In the months prior to the release of their fourth album, the band joined the Warped Tour, playing dates across the US and UK. In late 2015, the band released Xeno (Razor & Tie), a concept album about a female artificial intelligence entity who takes over the mind of a male protagonist.
Tickets €16.00 Inc. booking fee are on sale now from Ticketmaster.