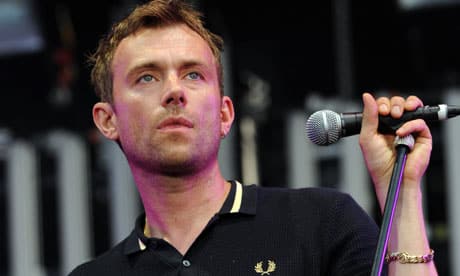 The Blur frontman has explained why they pulled out of the "Big Day Out Festival" in Australia and has also said that it would have been the band's last gig together.
Blur were due to headline the event, however they cancelled the November gig citing that they weren't happy with how the concert was being run.

Speaking to the New Zealand Herald Albarn says:
"This is as frank as I'm prepared to be about what happened. That was going to be the last Blur show – the end of playing together – and I didn't want it to finish on anything other than a very positive note, because Blur is incredibly precious to all of us."
"They weren't being straight with me about things, which they needed to be, and at that point I became disillusioned because I didn't want what we'd done throughout the year, with Blur, to be undermined or tarnished in any way, by a show that wasn't going to be what we wanted to do.
We'd been playing for six months solidly, around the world, so I knew that we would deliver a fantastic show, a great performance and a communal event, which everyone would have enjoyed. All I asked was that the organisation recognised that and I didn't feel they did. So, that's why, unfortunately, we couldn't come."
Damon Albarn has explained why Blur pulled out of Big Day Out festival, and admitted that it would have been the band's last gig together.
The band were due to headline the event – which toured Australia in January and February this year – but cancelled their slot in November, stating that they were unhappy with the way the festival was being run.
"This is as frank as I'm prepared to be about what happened," Albarn told the New Zealand Herald. "That was going to be the last Blur show – the end of playing together – and I didn't want it to finish on anything other than a very positive note, because Blur is incredibly precious to all of us."
He added: "They [the organisers] weren't being straight with me about things, which they needed to be, and at that point I became disillusioned because I didn't want what we'd done throughout the year, with Blur, to be undermined or tarnished in any way, by a show that wasn't going to be what we wanted to do."
"We'd been playing for six months solidly, around the world, so I knew that we would deliver a fantastic show, a great performance and a communal event, which everyone would have enjoyed," he continued. "All I asked was that the organisation recognised that and I didn't feel they did. So, that's why, unfortunately, we couldn't come."