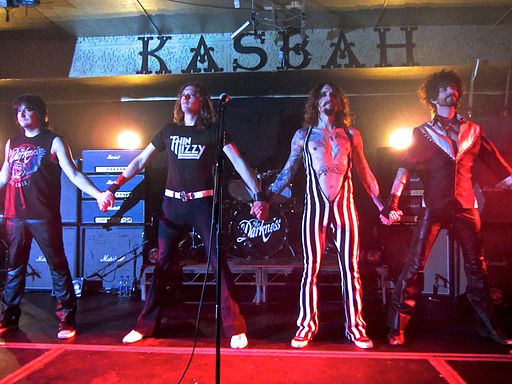 The glam rockers are coming to play in several different venues across the country. It's been a few years since we've seen the boys, but they're back with a new album following their 2015 release Last of Our Kind.
In preparation of the release of their album The Darkness have lined up a bunch of European Tour dates including three in Ireland.
They'll be hitting up Limerick in Dolans on the 13th of October.
The Darkness return to Dolans Warehouse on October 13th. Ticket ON SALE NOW from https://t.co/HoitvzCrjG @thedarkness @mydolans #limerick pic.twitter.com/1eEGvpmcma

— Dolans Limerick (@mydolans) May 22, 2017
They'll also be going to the Academy on the 14th of October.
NEW SHOW // @thedarkness will play the Academy on Saturday 14th October

Tickets on sale Monday 22nd May from @TicketmasterIre pic.twitter.com/CNIdeDquJM

— The Academy Dublin (@academydublin) May 22, 2017
Along with making an appearance in Belfast on the 15th.
The Darkness had huge success in 2003 with the release of their album Permission to Land which contained such hits as "I believe in a thing called love" and "Growing on me". Two years later the band released a follow up album One Way Ticket To Hell… And Back which missed out on the Top 10.
Toppled with the failed success of the second album, the band went through further issues after the lead singer Justin Hawkins went to rehab to deal with a drug problem. After completing his sting in rehab, he left the band and the remaining members reformed to start the band The Stone Gods and recived marginal success with an album in 2007.
Meanwhile former Lead Singer, Hawkins went on to release a cover of Sparks song 'This Town Ain't Big Enough For The Both Of Us' which got to No.6 in the UK. He released it under the pseudonym British Whale. He also made a failed bid for the Eurovision in 2007. Which really feels like it was all our loss.
All hope was not lost for the band though as they reformed in 2011, and started releasing new music again. While they have yet to re-achieve the same commercial success as their first album, they are still set to release a new album this year.
Photo Cred: Edvill