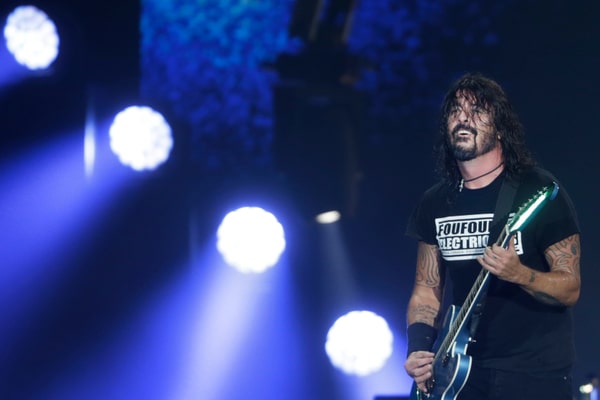 Many artists have little rituals they like to go through prior to hitting the stage, and Foo Fighters frontman Dave Grohl is no exception.
Grohl detailed his own pre-show ritual while speaking with Blink-182's Mark Hoppus on the latter's After School Radio podcast.
At one point in the chat between the rockers, Hoppus inquired as to whether Grohl had any pre-show ritual.
The Foo Fighters star revealed that his ritual involves a specific brand of beer.
"It's like one hour before the show, I open a Coors Light, and I'm like, 'Oh, hello darkness, my old friend.' But our dressing rooms are always filled with friends," he told Hoppus.
Grohl went on to talk about how much he enjoys hanging out with friends backstage, something the current pandemic situation has curtailed.
"That's the thing that I love the most," he said. "I'm going to miss it. We're not allowed to really have people backstage right now. But one of the things I love before going on, is just being happy. You're surrounded by all your friends. You haven't seen everyone in a long time, and you're doing shots of Crown Royal, and you're like, 'Yay.' And everyone's like… Taking pictures with each other. And it's like a reunion every night."
The musician added that he likes to get into a positive mindset with his bandmates before heading out onto the stage.
"To me, the best way to walk onstage every night is… Gus, he'll say, 'Okay, dude. Do you want house lights yet?' I'm like, 'Nah, not yet.' And I just wait until the entire band is laughing about something," he said. "And I'm like, 'All right, let's go.' So you walk onstage laughing. You feel happy when you walk onstage. To me, that's the best way to do it."
"Once you hit the stage, not only are you supercharged to kick everyone's ass, but you're in a good mood," he added. "And it just feels like… I like it when it feels more like a cake party than a stadium show. That has to do with the vibe between the band and everyone."
Grohl is currently on the road with Foo Fighters as they resumed touring after the lockdown. They were just announced as the replacement headline act for October's Shaky Knees festival in Atlanta. The spot became vacant when previous headliner Stevie Nicks cancelled all of her 2021 dates due to concerns over rising COVID infection rates in the US.
View this post on Instagram
During a gig in Kansas last week, Foo Fighters invited a fan on stage to play Grohl's guitar part during the song Monkey Wrench. You can see how the fan got on in the video below.