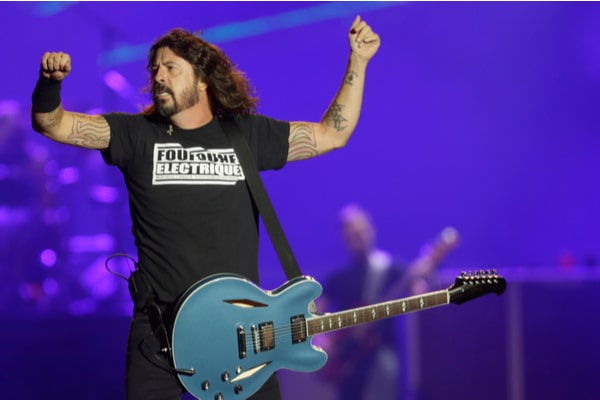 Dave Grohl has revealed that he is currently working on a new heavy metal album, coinciding with the release of the upcoming Foo Fighters film Studio 666.
While the album has not been named yet, it will be released under Grohl's fictional band Dream Widow.
A trailer was released for this film last month. 
In Studio 666, Foo Fighters band members are recording their 10th album in a mansion. The band make an interesting discovery in the basement, where a tape belonging to a band named Dream Widow is discovered.
"And there's this song that, if recorded and completed, the fucking demon in the house is unleashed, and then, whatever, all hell breaks loose", Grohl said. "And we come in 25 years later to record, having no idea what happened 25 years ago, and I start becoming possessed by the spirit of the guy from 25 years ago and the spirit of the house". 
The band also released a thrash metal track called "March Of The Insane". This track arrived along with a lyric video which featured a blood-spattered tape recorder.
Grohl also revealed that this was a "lost" Dream Widow record which was supposed to be made before the singer murdered the rest of the band in the film.
While he did not confirm an official release date for the album, Grohl did state that this album will arrive in conjunction with the film.
"Yes, I'll get it out for the movie. By Feb. 25, there will be a Dream Widow record", he insisted.
Grohl & Years Of Hearing Loss
Elsewhere, having suffered from hearing loss for years, Davd Grohl has claimed that the "worst thing" about the pandemic was that he could not lip read people wearing masks.
Grohl also revealed that he has tried to limiting the effect of massive sound levels by using ear monitors.
"I have not been to an ear doctor", Grohl said.
"Actually I did go to an ear doctor recently to have them cleaned out. That was a f*****g mess! … I haven't had them tested in a long time. I mean, I know what they're going to say: 'You have hearing damage, tinnitus, in your left ear, more so that your right.' My left ear is kinda worse than my right because of my snare drum and my stage monitor when I play the drums".