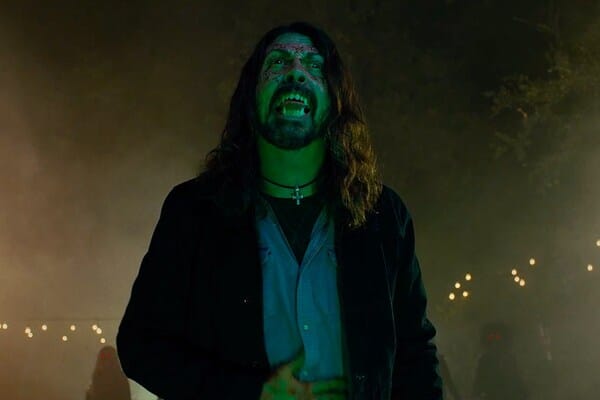 Foo Fighters have released a full trailer for their upcoming horror comedy.
Directed by BJ McDonnell, who previously helmed the slasher sequel Hatchet III, Studio 666 sees the band move into a mansion in California to record their 10th album. The mansion has a grisly history however, and frontman Dave Grohl finds himself possessed by an evil supernatural entity.
"Like most things Foo, Studio 666 began with a far fetched idea that blossomed into something bigger than we ever imagined possible," Grohl said of his band's cinematic debut.
Grohl headlines the cast with fellow band members Taylor Hawkins, Pat Smear, Chris Shiflett, Rami Jaffee, and Nate Mendel. Also appearing are Whitney Cummings, Jenny Ortega, Leslie Grossman and Will Forte.
The movie's official synopsis reads:
In STUDIO 666, the legendary rock band Foo Fighters move into an Encino mansion steeped in grisly rock and roll history to record their much anticipated 10th album. Once in the house, Dave Grohl finds himself grappling with supernatural forces that threaten both the completion of the album and the lives of the band.
Studio 666 opens in US cinemas on February 25th. An Irish release has yet to be announced.
The film sees Foo Fighters carry on a tradition of rock stars appearing in horror movies.
David Bowie played a vampire in 1983's The Hunger, as did Grace Jones in 1986's Vamp.
Alice Cooper played a killer tramp in John Carpenter's Prince of Darkness and also appeared in Nightmare on Elm Street sequel Freddy's Dead.
1986's Trick or Treat featured both Ozzy Osbourne and Gene Simmons.
Some rockers have even turned their talents behind the camera, with Rob Zombie directing a host of horror movies over the last couple of decades while Twisted Sister's Dee Snider wrote the 1998 slasher Strangeland.