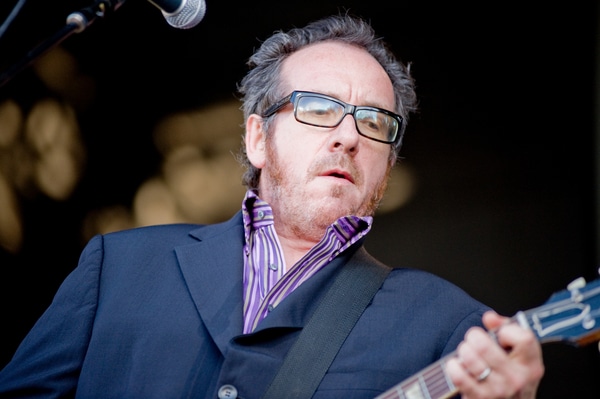 Elvis Costello has said he would prefer radio stations not to play his controversial 1979 song Oliver's Army.
The track from Costello's third album, Armed Forces, has provoked controversy over the years for its use of the N-word. Some radio stations bleep out the offending word when playing the song.
Costello has now said he would prefer if radio stations stopped playing the song rather than censoring it. He has also stopped performing it himself.
"On the last tour, I wrote a new verse about censorship, but what's the point of that? So I've decided I'm not going to play it," he said. "[Bleeping the word out] is a mistake. They're making it worse by bleeping it for sure. Because they're highlighting it then. Just don't play the record!"
Oliver's Army, which is about the Northern Ireland Troubles, features the lyric "Only takes one itchy trigger/ One more widow, one less white n*****."
"If I wrote that song today, maybe I'd think twice about it," Costello said. "That's what my grandfather was called in the British army — it's historically a fact — but people hear that word go off like a bell and accuse me of something that I didn't intend."
Costello said radio stations would be doing him a "favour" if they stopped playing the song.
Last week Elvis Costello and The Imposters released a new track titled Farewell, OK.
Following Magnificent Hurt and Paint the Red Rose Blue, it's the third song to be released from the upcoming album The Boy Named If, which releases this Friday.
"Like a lot of good rock and roll songs this began with a drummer down in a basement and a singer howling outside the backdoor," Costello said of the track. "It's a blurred gaze, a drink too much, an accidental punch and a kiss goodnight all in the tumult of a dancehall."
Costello says the songs on The Boy Named If will "take us from the last days of a bewildered boyhood to that mortifying moment when you are told to stop acting like a child – which for most men (and perhaps a few gals too) can be any time in the next 50 years."
Costello and The Imposters will be touring the UK in June in support of the album.