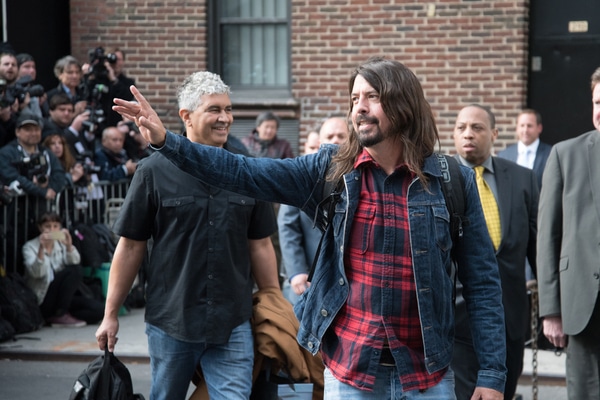 Foo Fighters recently covered the Bee Gee's classic, You Should Be Dancing on Jo Whiley's Sofa Session for BBC Radio 2. In a short interview, Dave Grohl recalled his affiliation with the disco brothers after he named his first dog after them.
The Foo Fighters frontman revealed the song was a full-circle moment for him, taking him back to vacations with his relatives. Dave's cousins lived in Miami during the peak of the Bee Gees disco craze of 1979, and "lived pretty close to where the Bee Gees lived".
"And that bridge in Miami that they referenced, where they got the beat to 'Stayin' Alive; by driving under the bridge, we would drive back and forth over it, this is 1979, just so we could drive this same place the Bee Gees did," said Dave. "We were visiting my cousins, their dog had puppies, and we wound up taking one of the puppies home, and we had this dog for 16 years, and we named it Beegee. My dog, growing up, was named Bee Gee. Like, who's not a Bee Gees fan? Come on."
That dog played a very special part in Grohl's musical history, inspiring the debut track of his first musical project, the HG Hancock Band. The inspiration behind the band's name came from the idea that Southern rock legends Lynyrd Skynyrd were named in mocking tribute to their Jacksonville, Florida high school teacher, Leonard Skinner.
Dave created the band with his North Springfield Elementary School classmate, Larry Hinkle. 'HG' stood for Hinkle/Grohl while 'Hancock' was the surname of the pair's PE teacher. The band's first composition, Bitch, was written in praise of Dave's dog, BeeGee.
Another introductory track from Dave came in the shape of Foo Fighters' This Is A Call, the opening track on the band's self-titled debut, and the album's first single. Grohl wrote the song in a Dublin hotel room while he and his first wife, photographer Jennifer Youngblood, were on honeymoon in 1994.
After the band's rendition of You Should Be Dancing on Jo Whiley's Sofa Session, Grohl admitted he found it really easy to hit the band's famous high notes. The rocker said he has "never, ever, in my life sung like that but it was the easiest song I have ever sung. I didn't realise that my voice (could do that)… I sing the song in, like, six minutes and I was done. I was like, 'Oh my God, I should have been singing like that for the last 25 years'," Dave reflected.