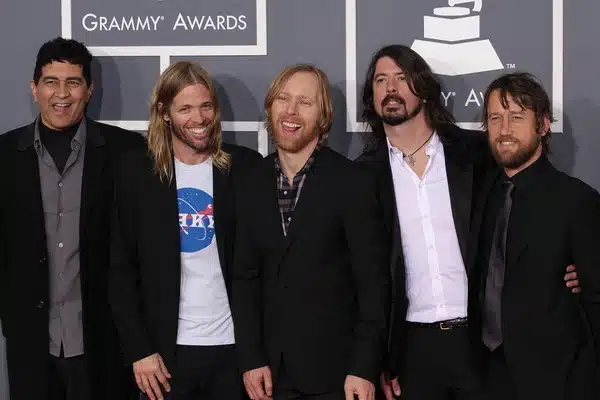 Would you like to listen to the article instead of reading it?
While performing at last weekend's Ohana Music Festival, Dave Grohl paid an emotional tribute to the late Foo Fighters' drummer Taylor Hawkins.
Hawkins who passed away tragically in March 2022, grew up Laguna Beach, California, just 7 miles from where the concert took place.
During the show, Grohl dedicated a live performance of 'Aurora' from the album 'There Is Nothing Left to Lose', to Hawkins.
Grohl Pays Tribute To "the hometown hero"
Speaking to the audience, a visibly emotional Dave Grohl said, "He is, indeed, the hometown hero of this show, everybody f***ing give it up for Taylor Hawkins right now".
Grohl proceeded to tell the audience about a trip he took with Hawkins to Laguna Beach to see his family.
"It's a trip. I came down here with him every once in a while (and) hung out at the house he grew up in. Hung out with his mom, hung out with his dad. Hung out with his brother and sister", he revealed.
"It was weird because I never really understood Taylor Hawkins until I f***ing came to Laguna. And then I was like 'Oh, yeah, OK, I get it. That's who you are!".
"We had good times down here, so I knew that tonight would be kind of heavy because we are here where Taylor grew up, but I want this next song to be a celebration of his life, all right?".
Just before they performed 'Aurora', a tearful Grohl's voice began to crack as he added, "This is the first song that we wrote together and we'll play it every night for the rest of our lives".
Check out this beautiful tribute below.
At this show, Dave Grohl and co also performed a short, impromptu cover of Led Zeppelin's track 'Stairway To Heaven', while pausing the show as a fan received medical attention.
More on this from Nova here.