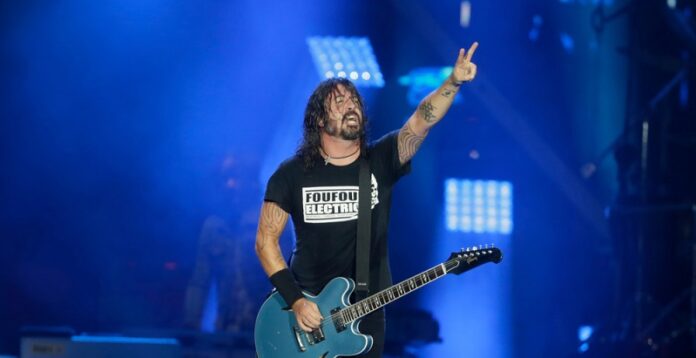 Dave Grohl has expressed his thanks to those who supported the Save Our Stages Act in the bill that President Donald Trump passed into law over the weekend.
The money will help support independent music venues that have been heavily hit during the pandemic.
In a statement published on social media, Dave Grohl said:
"A huge, heartfelt thank you to everyone who supported the Save Our Stages Act, which passed yesterday as a part of the economic stimulus bill."
"The preservation of America's smaller, independent venues is not only crucial to the millions of concert goers whose lives are bettered by experiencing their favourite artists in the flesh, but to the future of music itself, as it gives the next generation of young musicians a place to cut their teeth, hone their craft, and grow into the voices of tomorrow."
"The absence of live music this year has left us all longing for that communal feeling of connection, one that is best felt when joined in a song. The Save Our Stages Act brings us one step closer to sharing that feeling again, one that I hope we can all experience again very soon. Everyday we're one step closer."
"See you there, Dave."
Foo Fighters will release their new album 'Medicine at Midnight' in February. You can pre-order their new album here. With the rollout of vaccines, Grohl and the Foo Fighters will hope to be playing concerts with people in attendance, sooner rather than later.
It is welcomed news for the American music industry. However, the UK music industry is in crisis due to the pandemic and the recent Brexit deal that was agreed between the EU and the UK.
A petition calling for the government to secure visa-free travel for artists and other creatives in the EU following the end of the Brexit transition period has reached over 100,000 signatures.
The EU trade agreement allows workers in several industries to enter the EU without a visa, but does not include musicians in the clause. To tour Europe, bands and artists may need secure visas for each country they are scheduled to perform in. If that is the case, touring on the continent will become far more costly and harder to afford for many artists and crew members.
With the petition securing over 100,000 signatures, the motion is now set to be discussed in UK parliament soon.