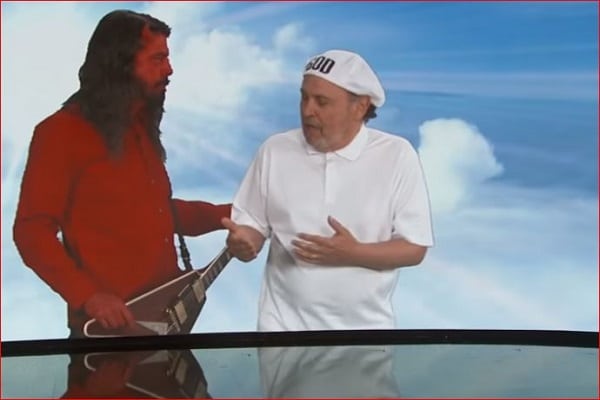 Dave Grohl has starred as Satan in contrast to…you guessed it, none other than God played Billy Crystal in a comedy sketch from Jimmy Kimmel Live.
The skit focuses on a Satanic Temple of Chicago statue in the state of Illinois. Called the 'Snaketivity' the statue shows the arm of a young woman gripped by a snake while clutching an apple. It states, "Knowledge is the Greatest Gift."
Catholics recently protested the statue and called for the Illinois Secretary of State to take get rid of the effigy. Jimmy Kimmel to go straight to the mainman and asks the opinion of God, played by Billy Crystal.
"I'm fine with it. [Myself and Satan] made up. Hey listen folks, if Taylor Swift and Katy Perry can make up, why can't we?" Then, the Foo Fighters lead singer appears, carrying a guitar and dressed as Satan.
Kimmel asks, "You guys hang out in heaven?". God replis, "We get together like once a week, play a little Fortnite, fantasy football. We have brunch," Crystal replies.
Check out the clip below!
Source: NME.