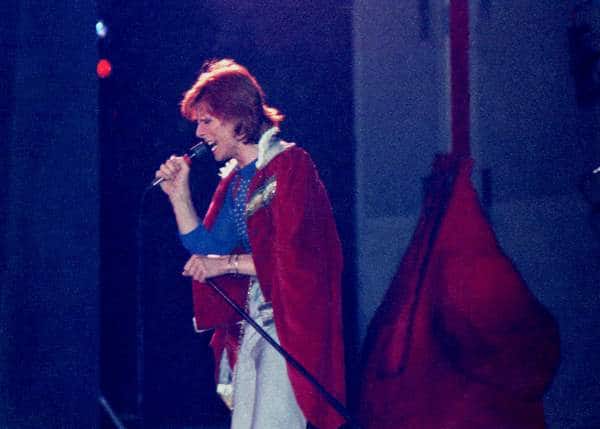 Diamond Dogs is the eight studio album by David Bowie and it was released on May 24th 1974. It was a concept album which was partly based on George Orwell's 1984.
Diamond Dogs is one of the most important albums David Bowie ever released.It captures him rather tangled transitional phase – battling with the glam rock splendour of the past, whilst sowing the tentative soul seeds of the future; of which, would come to dominate Young Americans the following year. Because of its awkward position, Diamond Dogs is album of many contractions; featuring some of Bowie's finest moments, but at the cost of a disconcerting listening experience for the consumer.
It's all rather muddled. It's a loose concept album based on George Orwell's seminal 1984, but said concept falls apart quickly, and is presented in such a fragmented manner that it loses cohesion. Similarly, the music is just as divided, featuring traces of glam set appositionally against funky moments, making for a rather eclectic mix. Yet somehow it all works – the messiness and boiling pot of ideas begins to take shape after one takes sufficient time to make sense of it all, and that's when Diamond Dogs starts to form as a flawed, but wholly intriguing picture.
Bowie committed to a massive decision in choosing to sack the Spiders from Mars band, opting to play guitar and produce himself. In hindsight, it was perhaps a poor and hasty decision, as the absence of Mick Ronson's phenomenal guitar work is simply a tragedy, no matter how satisfying Bowie's riffs are on tracks such as 'Rebel Rebel'. It also serves as a huge indicator of his desire to move from glam into pastures new, and as such, at certain points on Diamond Dogs, one begins to see the cracks in Bowie's will to rock n roll.
The composition process was also a crucial step in Bowie's artistic evolution. It was around this period that Bowie began abusing cocaine to such an extent that his colleagues became worried about his declining physicality and wild personality swings. Reports surfaced of his obsessive, control-freak nature in the studio, where he would scream at those who attempted to speak whilst he was working. It was also the first time he heavily experimented with the 'cut-up' writing technique famously deployed by author William Burroughs – a creative process Bowie would return to throughout his career.
Diamond Dogs is a messy, conflicting concept marked by a tenuous transition from glam rock to plastic soul, and that's precisely why it was such a crucial and important record in Bowie's catalogue. It captured an artist mid-evolution, baring witness to his first steps away from the past, and as such, it remains an intriguing listen. An album of many firsts, Diamond Dogs features a small platter of sparkling Bowie classics, and even with its flaws, the overall experience shapes up as a fabulous, nightmarish ride through a grim and terrified vision of a dystopian future. Conclusively, this dog's howls might not be diamond, but where it matters, they're most definitely still gold.
Tracklist:
1. Future Legend
2. Diamond Dogs
3. Sweet Thing
4. Candidate
5. Sweet Thing (Reprise)
6. Rebel Rebel
7. Rock 'n Roll With me
8. We Are The Dead
9. 1984
10. Big Brother
11. Chant Of The Ever Circling Skeleton Family
Photo Credit: Hunter Desportes