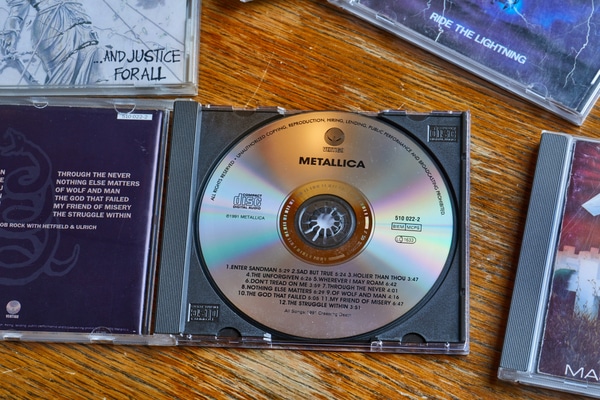 The special reissued multi-media box set, marking the 30th anniversary of Metallica's "The Black Album" is out today!
The "Deluxe Box Set" includes 6 LPs, 14 CDs, along with six DVDs and much more. This new set also includes the original "Black Album" remastered on 180 vinyl and CD.
This set also includes a Live At Wembley EP, the Live In Moscow double LP, five CDs of demos and rough mixes. Six live and behind the scenes CDs are also included in the box set.
The box set also contains "Sad But True" picture disc.
Check out the trailer below.
Released in August 1991, The Black Album includes tracks, "Nothing Else Matters", "The Unforgiven", and "Enter Sandman".
The band's guitarist James Hetfield said recently that the album "changed our lives".
Along with the album reissue, a second album is also released to celebrate this anniversary.
This album will see 50 artists contribute "a unique interpretation" of their favourite Black Album tracks. Any profits made from this special album will be split between various chosen charities and Metallica's All Within My Hands Foundation.
Artists featuring include Miley Cyrus, Weezer, Royal Blood, Biffy Clyro, Sam Fender and Volbeat. Elton John and Cyrus worked together to release a cover of "Nothing Else Matters".
Check out Miley Cyrus and Metallica's recent duet on the Howard Stern Show here.
Metallica Had Big Plans For The Black Album – Kirk Hammett
Last month, Metallica guitarist Kirk Hammett had said that the band had big plans for the Black Album right from the start.
"We didn't want to go down the same progressive, demanding route", Kirk said.
"We had our sights set on bigger things. You have to remember that there had been some mega albums around that time – Bon Jovi, Def Leppard, Bruce Springsteen… eight million, nine million copies sold", he added
"And we wanted that. It's obvious. We wanted a Back In Black".
More on this here.
The band are to also offer virtual guitar lessons.
Tune into Nova all weekend to find out how you can get your hands on some Black Album goodies!!