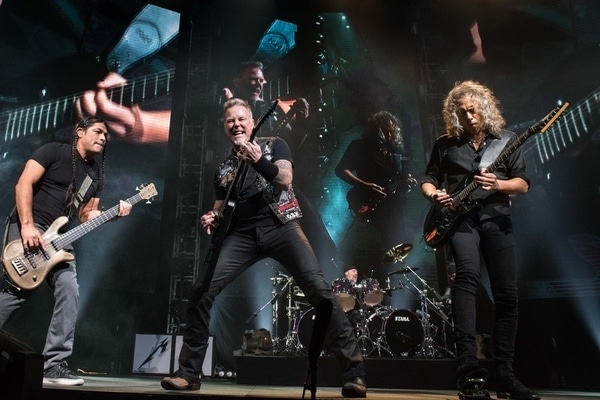 Getting guitar lessons from Heavy Metal legends sounds like every budding rocker's dream, but that's set to become a reality.
Virtual music lesson platform Yousician is set to launch a series of artist-partnered virtual lessons.
Each course will feature a renowned musician delivering lessons on a specific instrument to users of the platform. The lessons will combine interactive elements with real-time feedback.
The first course kicks off this Friday, August 27th, when Jason Mraz will be delivering lessons in guitar and ukulele.
Metallica have signed up to deliver a masterclass in guitar at a yet to be announced date in early 2022.
Hadley Spanier, Yousician's head of brand marketing and artist relations, said of the courses "There's so much potential for artists, both on the exposure side to our 20 million users and also on a revenue side, because we are able to put together pretty attractive financial offers for artists as well."
Artists who deliver lessons through Yousician are paid a percentage share of the revenue brought in through the course.
Metallica have yet to comment on their participation, but Jason Mraz said of Yousician "I've partnered with Yousician because I hope that anyone at any age feels that now is the right time to learn. Yousician makes it so easy to learn and play. It's like having a friend to personally guide you on your musical journey."
Formed in 2010, the Finnish based Yousician offers online lessons in guitar, piano, bass and ukulele, along with vocal lessons. It currently boasts over 20 million users.
One person who won't be signing for Metallica's guitar tutorial is Megadeth guitarist Kiko Loureiro. He recently confessed that he wasn't a fan of Metallica guitarist Kirk Hammett's playing.
During a recent fan Q+A, Loureiro was asked to name his favourite Hammett guitar solos.
"Kirk Hammett… So, Kirk Hammett, I was never really into his solos," he confessed. "I believe the great solos must be… The solos from the big songs, right, 'Master of Puppets,' and songs like that. I remember trying to learn a song called 'Damage Inc.' because I had this Japanese magazine. back in the day. We didn't have any tab, any tab that I could get in my hands, I would try to learn. So I remember trying to learn that song, but I don't remember the solo, I even don't know if the song has a solo actually."
Loureiro went on to name the guitarists he ranked ahead of the Metallica axeman.
"In the '80s, I was so much into Van Halen, Randy Rhoads, Steve Vai, Paul Gilbert, Greg Howe, Jeff Beck, Ritchie Blackmore, Vinnie Moore, Jason Becker, all those great players, so I was not really into Kirk Hammett lead solos, the lead guitar playing."