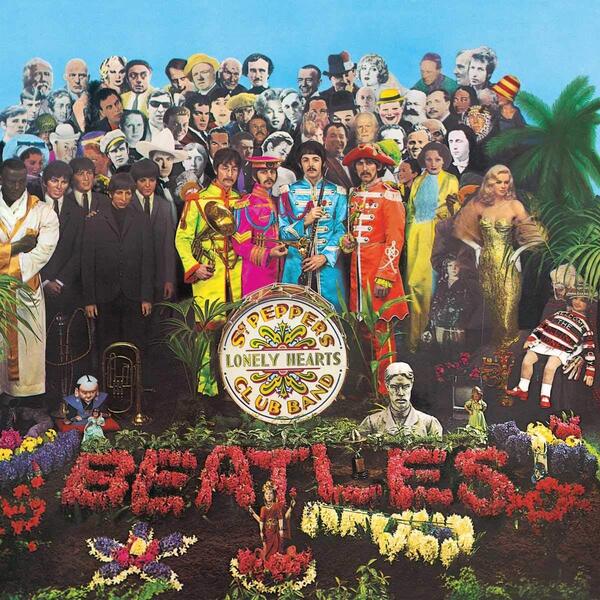 Tonight (December 22nd) on the world famous Classic Album at Midnight on Radio Nova we're playing The Beatles' Sgt. Pepper's Lonely Hearts Club Band.
The album is presented in full with no commercials or interruptions.
Following a gruelling world tour that saw the band receive death threats from religious groups angered by John Lennon's "Bigger than Jesus" comment, the four members of The Beatles went their separate ways for a few months. During this break Paul McCartney decided to follow his bandmates' suggestion that he take LSD.
Inspired by his psychedelic trips, McCartney came up with the idea of an album based around an alter-ego band, and so Sgt. Pepper's Lonely Hearts Club Band was born.
The Beatles' new psychedelic direction was inspired by the art-rock groups emerging from California, and in particular The Beach Boys' Pet Sounds. Lennon and Harrison had become influenced by Indian music, with the latter having recently studied the sitar under Ravi Shankar.
Having decided they were finished with live performances, the band set out to make a record beholden to the studio and its artistic possibilities. The mammoth recording sessions lasted from November 1966 until the following April.
The resulting album was a mish-mash of genres, mixing western rock and pop with eastern sounds and vaudeville, with a dash of classical music.
Lyrically, Sgt. Pepper sees Lennon and McCartney pay tribute to their childhoods in Liverpool, while many songs reflect their growing interest in drug experimentation. A Day in the Life would be banned by the BBC due to its lyric "I'd love to turn you on," while Lucy in the Sky with Diamonds was believed to be a not so subtle reference to LSD.
Designed by artists Peter Blake and Jann Haworth, Sgt. Pepper features arguably the most famous album cover ever created. The image sees the band surrounded by a collage of cardboard cutouts of historical and pop culture figures including Marilyn Monroe, Albert Einstein and Bob Dylan among many others.
Sgt. Pepper's Lonely Hearts Club Band features 13 tracks. On Side A are Sgt. Pepper's Lonely Hearts Club Band; With a Little Help from My Friends; Lucy in the Sky with Diamonds; Getting Better; Fixing a Hole; She's Leaving Home; and Being for the Benefit of Mr. Kite!. On Side B are Within You Without You; When I'm Sixty-Four; Lovely Rita; Good Morning Good Morning; Sgt. Pepper's Lonely Hearts Club Band (Reprise); and A Day in the Life.
Sgt. Pepper was released on May 26th, 1967 in the UK and on June 2nd in the US. It became an instant cultural phenomenon, sparking what would come to be known as the Summer of Love. The album would spend 27 weeks at number one in the UK and 15 weeks atop the US chart. It would become the UK's biggest selling album of the 1960s.
Critics raved about Sgt. Pepper, with The Village Voice hailing it as "the most ambitious and most successful record album ever issued" while The Times' Kenneth Tynan called it "a decisive moment in the history of Western civilisation."
Since its release, Sgt. Pepper has gone on to top numerous lists of the greatest albums of all time and is largely credited with legitimising pop and rock as an art form.
You can listen to Sgt. Pepper at midnight tonight on Radio Nova. We hope you will enjoy the show.