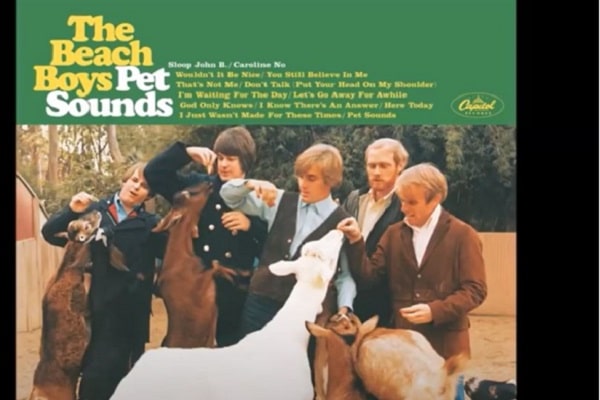 Any fans of music albums from the 1960s, 70s or 80s, well don't worry, because we at Nova have you covered.
Today's edition of the 50 Albums That Changed Your Life will take in an album from each decade, with the Beach Boys, Talking Heads and Blondie, all to be the focus for today.
'Pet Sounds' – The Beach Boys
I know this sentence has been bandied about a lot on Nova this month, however it is certainly true to say that albums mentioned here have not only changed our lives, they have also helped to change the lives of the artists who put them together.
This is certainly true of the Beach Boys' 1966 classic 'Pet Sounds'.
An album which has been hailed as a record which redefined pop music, and saw the band outgrow their earlier pop tunes, as they began to expand their musical repitoire in the 1960s.
While the rest of the band were touring, frontman Brian Wilson was working on a new direction for the band. Taking a break from touring, Brian Wilson struck up a working relationship with lyricist Tony Asher.
Thanks to Asher and taking inspiration from the Beatles manager Phil Spector and their wall of sound technique, Wilson used non tradition instruments on the album, including coke bottles, gockenspiels and bicycle bells.
Hailed by many as "the most progressive album ever", 'Pet Sounds' spent 6 months in the UK Top 10, ranging across a number of themes including young love andthe transient nature of romance, thanks to tracks such as 'Wouldn't It Be Nice' and 'God Only Knows'.
You can listen to these tracks from the album at 10am here on Nova.
'Pet Sounds' also saw the Beach Boys sell more records than the Beatles by the end of 1966, and helped to cement Brian Wilson's genius as a musician and songwriter.
'Stop Making Sense'– Talking Heads
A first for the 50 Albums That Changed Your Life, in that this album was recorded live back in 1984, as 'Stop Making Sense' also paved the way for a concert film of the same name in the US.
Selling two million copies, the album saw lead singer David Byrne deliver an intense cover of 'Psycho Killer', which you can check out from 1pm here on Nova.
'Once In A Lifetime' also saw Byrne produce those iconic choreographed snake like dance moves. This is also a track you can check out here on Nova, along with 'Burning Down The House'.
The album itself spent two years in the US Billboard Charts.
'Parallel Lines' – Blondie
An album which certainly fits the bill of changing lives includes Blondie's 1978 record, 'Parallel Lines'.
You could be forgiven for feeling that this album was ahead of its time, having provided a key moment in realising that Punk music contained the ability to enlarge female voices on their own terms.
On the album, female protagonists created are rarely victimised. They are in fact depicted with a depth to their character and an extra emotional dimension, which was previously reserved for themes like male lust and heartbreak.
'Parallel Lines' has been credited with succeeding where previous Blonde albums failed, in making a splash in the US, having gained a major UK following.
Selling 20 million copies, the album also boasted major hits like 'Heart Of Glass' and 'Sunday Girl'.
These tracks as well as the well known 'One Way Or Another' can be heard from 4pm, right here on Nova.