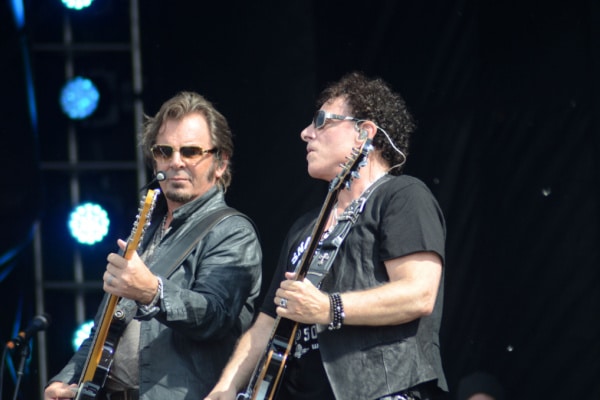 It has been reported that Journey guitarist Neal Schon is suing bandmate and keyboardist Jonathan Cain over access to the band's financial records.
The court documents have described Neal Schon as "the leader and original founding member of the iconic American rock band Journey".
They have also added that the lawsuit brought by their client Neal Schon is to "obtain critical financial information Schon has been trying to obtain but has been denied". 
"interfering with Journey"
Elsewhere, the filing brought by Neal Schon's legal team has also alleged that "Cain is interfering with Journey, refusing to respond to booking opportunities, blocking payment to band members, crew, and vendors, refusing to execute necessary operating documents, and in other ways as well. Cain has obstructed Schon from viewing expenses incurred by Cain and his touring party on band tours". 
The lawsuit also made the following statements.
"Cain has further refused to deal with critical, time-sensitive touring contracts for Journey's 2023 tour and ensure payment for band members and crew, who Cain contends are 'non-essential.' Schon believes those band and crew who are crucial to the band's success should be paid". 
"Cain's conduct is inexplicable. Under these circumstances, Cain cannot be the only one with access to Nomota's financial records. It is vital that Schon and his representatives have immediate access to all of Nomota's financial records so that Journey's finances can be properly managed and so that Journey continues its established success as the band that Schon has led since 1973". 
"consent or knowledge"
These documents have also stated that Neal Schon was in partnership with Cain when Journey were operating via the buisness entity Nomata. They claimed that Schon should be granted full access to these records.
It was also alleged that Cain had set up an American Express Account without telling Schon. They also claimed that "millions of Journey funds have flowed through it". 
"Nomota's AMEX account was set up by Cain, without Schon's consent or knowledge, with only Cain as the account holder. Cain set up the account so that only he is authorised to access the records and information for the account. Cain has blocked Schon from access. AMEX has informed Schon that it cannot release information to Schon".
As well as adding that Schon "further relief as the Court may deem proper and just", the lawsuit also claimed that Schon should be allowed full access to Nomata's financial records, and that all revenues should be split 50/50 in the future.
They also claimed that Schon's legal fees must be covered.
Earlier this year, Journey had released a new single 'You Got The Best Of Me' from their recent album. More on this here.