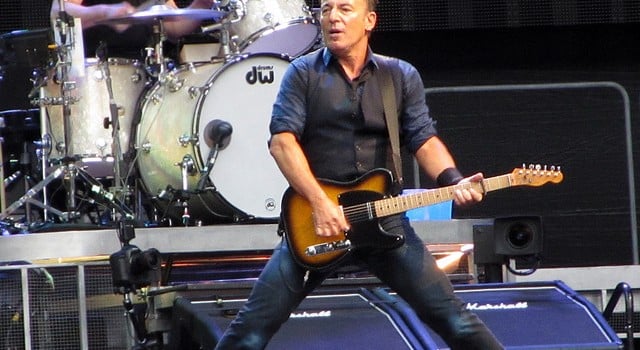 It was recently announced that Bruce Springsteen will be turning his Irish shows into live albums. His tour with The E Street Band saw recent shows at Croke Park in Dublin, Glasgow's Hampden Park and Coventry's Ricoh Arena, before finishing at Wembley Stadium on Sunday June 5th.
Bruce Springsteen has since traveled to the Netherlands where he will play a number of shows before finishing the European tour with a gig in Zurich on July 31st.
It was recently revealed that all of his European shows will be turned into live albums. The shows will be available one per week from Springsteen's website starting on June 15th and will also be broadcast on Springsteen's own radio show E Street Radio on the SiriusXM digital channel.
That's not the only news from Bruce Springsteen recently, as an official release has been given for his solo acoustic shows at Los Angeles theatre Shrine Auditorium. The shows, which were in aid of the charity Christic Institute, were recorded in November 1990 and previewed songs from Springsteen's album Human Touch . The Christic Shows November 16-17 1990 is available to download or to buy as a 3CD set.
Photo Credit: Bob the Lomond