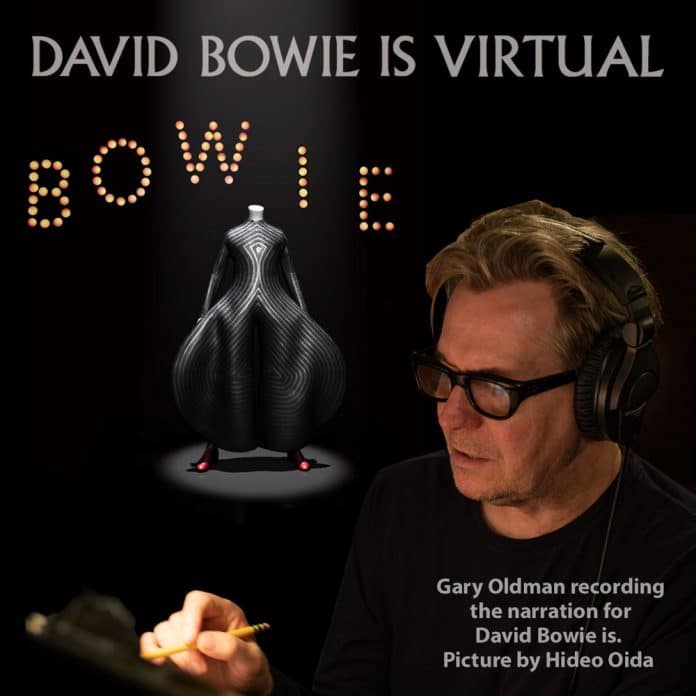 A new augmented reality mobile phone app based on "David Bowie Is", the popular New York exhibit based on David Bowie's life and career, will be narrated by actor Gary Oldman who starred in Bowie's music video for "The Next Day".
Beginning on January 8, 2019 (which would have been Bowie's 72nd birthday), the David Bowie is Augmented Reality mobile app will be available in iOS and Android — granting access to the show's hundreds of costumes, videos, handwritten lyrics, original works of art and more to the tens of millions of Bowie fans unable to visit the exhibition before it shuttered permanently on July 15, 2018. This virtual reality adaption of David Bowie is will enable the visitor to spend as long as desired on individual items and jump to others.
The app is based on the record-breaking exhibition that drew over 2 million visitors across 12 cities – the most visited touring exhibition in the history of the V&A – has been granted digital immortality. David Bowie is, curated by Victoria Broackes and Geoffrey Marsh, was the first exhibition of its kind and has set the standard for others to follow. The visual richness of this show and visionary nature of Bowie and his music made this a must for virtual reality.
Gary Oldman: "This brings the amazing David Bowie is exhibition to a wider audience. It's great that his fans get to experience it. It was a privilege to be involved"
Oldman and Bowie first met in the late 80's and having both been born and bred in South London found they had a great deal in common. Gary once remarked "I see him less as 'David Bowie' and more as Dave from Brixton and I'm Gary from New Cross."
Their friendship led to memorable collaborations with them appearing together in Julian Schnabel's film 'Basquiat' as well as Gary's spectacular performance as a priest in the controversial video for the Bowie song 'The Next Day'.
The David Bowie is AR mobile app is the first release resulting from a collaboration between the David Bowie Archive and Sony Music Entertainment (Japan) Inc., who hosted the exhibition in Tokyo in 2017. The New York-based studio Planeta is designing and developing the AR/VR interpretations of the original museum experience at the V&A. The AR adaptation, a first of its kind, mirrors the physical exhibition through a sequence of audio-visual spaces through which the works and artefacts of Bowie's life can be explored. 3D renderings preserve and present his costumes and treasured objects such as musical scores, storyboards, handwritten lyrics, and even diary entries–all in 360-degree detail, enabling intimate "behind the glass" access rivalling that of the visitors to the original exhibit, and enhanced by an immersive audio experience featuring Bowie's music and narration, best experienced with headphones.
Additionally, the David Bowie is mobile app will feature dozens of items not featured in the original exhibition, including some entirely new and exclusive to this AR version. The app will be available from January 8th priced £7.99.
The AR mobile app is the first phase of this innovative initiative, with the VR format scheduled for later release.
For more information davidbowieisreal.com.