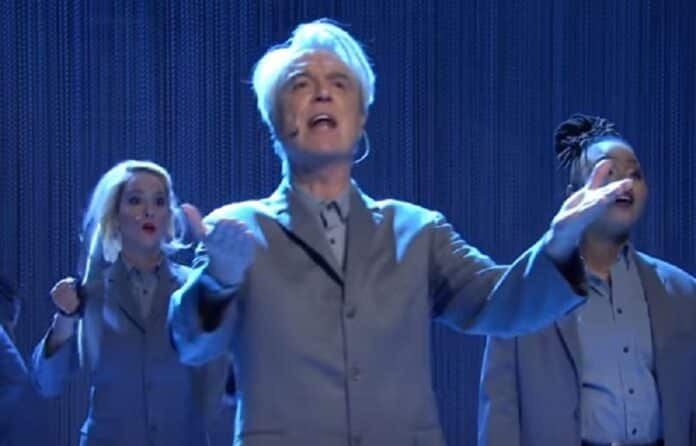 For any Talking Heads fans that were wanting a reunion, former frontman David Byrne has quashed those hopes.
Byrne was speaking on MSNBC's The Beat and replied to questions about a Talking Heads reunion. He said "There's a period where music really is essential to you kind of defining who you are and what your place is in the world, and you can never let go of that moment".
"But then again, you could never could never recreate and replace that moment either" said Byrne.
"There's plenty of reunion tours and things like that and it's become an exercise in nostalgia. You can never recreate that moment when people hear things like that for the first time".
David Byrne continued "It has to do with the moment that they heard this music in their life, where they were in their life, when this happened – more than it was us".
The Talking Heads broke up in 1991 and have only played together on one occasion since then, when they were inducted into the Rock and Roll Hall of Fame in 2002.
Talking to Rolling Stone magazine earlier this year, Talking Heads drummer, Chris Frantz said he would like the band to perform again.
"It would be nice if it could happen because unlike many of our contemporaries, we're all still alive."
Frantz went on to describe the offers the band has received for a reunion. "We got offered crazy amounts of money to do shows. Not only do the show, but also the DVD and the live recording. It was a treasure trove. Anybody in their right mind probably would have said yes".
It was also revealed recently that Byrne has never read Chris Frantz's memoir. You can read Radio Nova's report on it here.
Meanwhile, David Byrne will be bringing his American Utopia Broadway show online and to DVD. The show directed by Spike Lee will be available digitally from December 14 and is available to purchase as a DVD on January 11.
The show has been praised for its thought provoking messages, the overall production and the performances within the show. You can check out the trailer for it below.