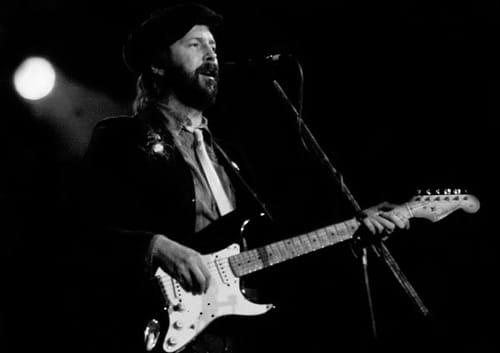 Birthday Boy Eric Clapton celebrates his 72nd Birthday today.
Unfortunately it looks like 'Slowhand' is sick for his birthday! The three-time inductee to the Rock and Roll Hall of Fame had to unfortunately pull out of two concerts at the weekend (March 25th & 26th) in California due to severe bronchitis. The guitar legend was scheduled to perform two shows at the Forum in Inglewood, California. A statement on twitter, said that under doctor's advised he had to reschedule his performances.
The shows have been rescheduled for later this year, September 15th and 16th. A later tweet read, "He is very sorry to disappoint his fans but looks forward to these shows."
We hope he gets well soon!
The English musician was born in Surrey, in 1945. He has had a stellar career, spanning over five decades as a rock and blues guitarist, singer and song writer.
Often referred to as one of the most important guitarists of all time, he was influenced by the blues from an early age. His commitment to the blues, its traditions and originators, is absolute from his earliest days. He began busking in London before joining his first band at 17 years old.
Over the years he has played with many bands such as the Yardbirds and Cream, and has had a distinguished career to say the least. Artistically restless, he has never been afraid to change musical direction, bands, guitar style, or physical appearance. He has risen from Bluesbreaker to three-time Rock and Roll Hall of Fame inductee.
Clapton's career successes were at times in stark contrast with the struggles he coped with in his personal life, which was troubled by romantic longings and drug and alcohol addiction. He also endured further personal tragedy later in life when his young son died tragically in 1991. He sang about his loss in his track 'Tears in Heaven'.
Clapton ranked second on Rolling Stone Magazine's list of the '100 Greatest Guitarists of All Time' and fourth in Gibson's 'Top 50 Guitarists of All Time'. He was also named number five in Time Magazine's list of 'The 10 Best Electric Guitar Players' in 2009 and has released 22 solo studio albums.
Picture Credit: monosnaps