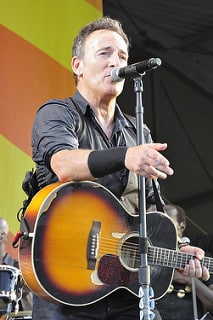 On this day in 1995, Bruce Springsteen's 'Streets of Philadelphia' won four Grammys for Song of the Year, Best Male Vocal Performance and Best Rock Song.
It was written and performed by the Boss for the 1993 film Philadelphia; at the request of the film's director Johathan Demme. He asked Springsteen to write a song while filming was in-progress and after the conclusion of the Other Band Tour, Springsteen did so.
It was released in early 1994 as the main single from the film's original soundtrack and was a hit in many countries including Ireland; where it topped the singles charts.
Recorded with Springsteen supplying almost all of the instrumentation, with bass and background vocals from "Other Band" member Tommy Sims, it was a critical triumph. In addition to winning the Academy Award for Best Original Song it received four Grammy Awards, including Song of the Year, Best Rock Song, Best Rock Vocal performance and Best Song written specifically for a Motion picture.
Jonathan Demme also directed the music video which begins by showing Springsteen walking along desolate city streets and ends with him along the Delaware River. The vocal track for the video was recorded live during the shooting, using a hidden microphone, to a pre-recorded instrumental track instead of the usual lip syncing technique.
North Carolina singer Ryan Adams (who has just released his new album Prisoner) recently covered the Oscar winning, 'Streets of Philadelphia'. And there are a few resemblances between the two 'Americana' singers, like their blue-collar ethos and strained vocal cracking It was recorded as part of BBC Radio 6 Music's upcoming celebration of the year 1994 with Adams doing away with the synths for a bare-bones rendition that's all acoustic and vocals.
Watch Adams perform his gorgeous cover of Bruce Springsteen's 'Streets of Philadelphia' here.
Picture Credit: Takahiro Kyono