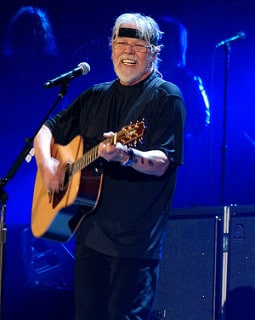 Thirty-seven years ago today, Bob Seger & The Silver Bullet Band started a six week run at #1 on the US album chart with Against The Wind. It knocked Pink Floyd's massive-selling The Wall from the top spot. The album also earned two Grammy Awards.
Against the Wind is the 11th album by singer Bob Seger and his third with The Silver Bullet Band. It is Seger's only Number 1 album to date.
Detroit's Bob Seger put together the Silver Bullet Band in 1973. Before this he had enjoyed success locally as Bob Seger and the Last Heard and Bob Seger System. However it was third time lucky with the Silver Bullet Band with whom he became most successful.
They comprised of Seger (vocals, guitar); Drew Abbott (guitar); Alto Reed (saxophone); Chris Campbell (bass); David Teegarden (drums, percussion). After several straight-ahead rock releases helped establish Seger as one of America's top rockers in the late '70s, he opened up the next decade on a quieter note, 1980's Against The Wind.
Recorded at Criteria Studios, Miami, Florida; Muscle Shoals Sound Studios, Sheffield, Alabama; and Bayshore Studios, Coconut Grove, Florida. Wind was another big hit, finding Seger at his most reflective, with ballads and country-influenced compositions making up most of the album. The best examples of Seger's new '80s direction can be sampled in the album's best cut, the heartfelt title track.
Other highlights of the heartland rock album included the ballads "Shinin' Brightly" and "No Man's Land," making Against The Wind another highly recommended Bob Seger release.
With a career spanning six decades, 71 year old, Seger continues to perform and record today. He was inducted into the Rock and Roll Hall of Fame in 2004 and the Songwriters Hall of Fame in 2012.
Photo Credit: Adam