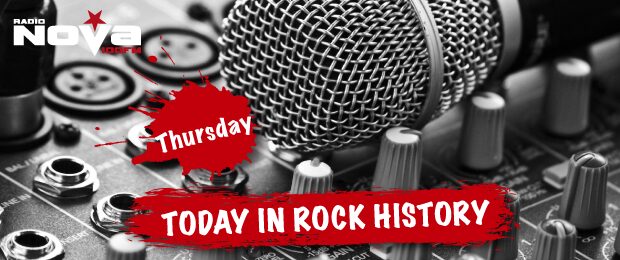 It's important to know your rock history, here at Radio NOVA we bring you ten rock stories from the sixties, seventies, eighties, nineties and the noughties.
On this day in rock history: October 16th.
1962: The first night of a two month Motown Records package tour started in Washington DC, featuring Marvin Gaye, The Supremes, Mary Wells, The Miracles and 12 year old Stevie Wonder.
1965: The Beatles recorded 'Day Tripper' at Abbey Road studio's London in three takes, adding vocals and other overdubs, completing the song before the end of the day.
1967: Folk singer Joan Baez was arrested, along with 123 others, for blocking the entrance to an Armed Forces Induction Center in Oakland, California.
1972: Creedence Clearwater Revival split up, due to leader John Fogerty's reluctance to give up creative control. The press release read "We don't regard this as breaking up. We look at it as an expansion of our activities." John's brother Tom Fogarty died in September, 1990 and the surviving members have been touring as Creedence Clearwater Revisited.
1976: Stevie Wonder's 'Songs In The Key Of Life', went to number 1 on the US album chart, featuring the tracks 'Sir Duke', 'I Wish', and 'Isn't She Lovely'. It was Wonder's third US number 1 LP.
1986: Keith Richards, Bruce Springsteen, Eric Clapton, and Etta James, joined other artists on stage in St Louis, for Chuck Berry's 60th birthday tribute concert.
2001: After Bob Dylan hires extra security guards in preparation for his comeback 'Love And Theft' tour, two of the guards turn Dylan himself back when the singer forgets his own pass. The new guards are fired.
2002: Billy Joel checked out of a Connecticut hospital known for treating substance abuse.
2002: Country legend Dolly Parton begins her first tour of the United Kingdom in nearly two decades.
2006: CBGB, the legendary New York punk club credited with discovering Patti Smith, The Ramones, Blondie and Talking Heads, closed after a final gig by Smith herself. The venue first opened in December 1973, its full name CBGB OMFUG standing for "country, bluegrass, blues and other music for uplifting gormandizers".