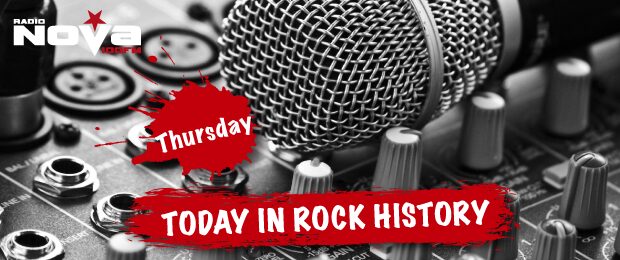 It's important to know your rock history, here at Radio NOVA we bring you ten rock stories from the sixties, seventies, eighties, nineties and the noughties.
On this day in rock history: October 2nd.
1945: At ten years old, Elvis Presley makes his first public appearance at the Mississippi-Alabama Fair and Dairy Show singing 'Old Shep' in a talent contest. He comes in second.
1967: Grateful Dead members Phil Lesh, Bob Weir, and Ron 'Pigpen' McKernan are arrested and charged with possession of marijuana after a raid at the band's house in San Francisco. The charges are later dropped on a technicality.
1970: Pink Floyd release their fifth, and first UK Number 1 album Atom Heart Mother. The original album cover, inspired by Andy Warhol's 'cow wallpaper,' shows a cow standing in a field with no text.
1977: The bodies of Elvis Presley and his mother are moved to Graceland after an attempt is made to steal his body from Forest Hill Cemetery in Memphis.
1995: Oasis release their second album (What's The Story) Morning Glory?, it goes straight to number 1. The album has sold over 18 million copies worldwide.
1996: A Pearl Jam show in Hartford Connecticut ended in a riot when mass fighting broke out among the 30,000 strong crowds.
1996: David Lee Roth releases a letter to the media in which he claims that he was an "unwitting participant" in Van Halen's appearance at the MTV Video Music Awards, and that he had been led on about his future involvement with the band.
2003: Police were called to a suspected burglary at the Los Angeles house of Courtney Love's former boyfriend and ex-manager Jim Barber in the early hours. Ms Love was picked up in the street outside and detained. Police officers said, "Miss Love's behaviour was consistent with being under the influence of a controlled substance".
2003: A pair of trousers worn in 1984 by the late Queen singer Freddie Mercury were sold to the Hard Rock Cafe for €5,410 at a Christie's auction of pop memorabilia held in London, England. A wooden sculpture of a cupboard, designed by John Lennon, claimed the highest price of the day €36,000.
2004: 55-year-old Billy Joel causes a stir by marrying his third wife, the 22-year-old cooking student Katie Lee, at his Long Island home.