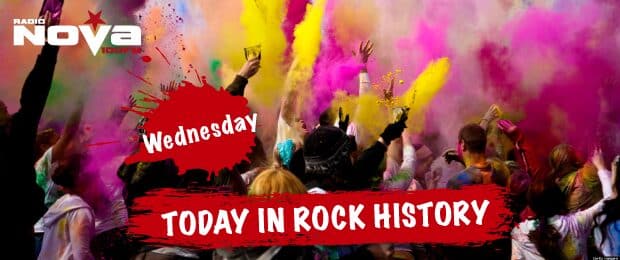 It's important to know your rock history, here at Radio NOVA we bring you ten rock stories from the sixties, seventies, eighties, nineties and the noughties.
On this day in rock history: October 8th.
1964: Roy Orbison had his third UK number 1 with 'Oh Pretty Woman'. The title was inspired by Orbison's wife Claudette interrupting a conversation to announce she was going out; when Orbison asked if she was okay for cash, his co-writer Bill Dees interjected "A pretty woman never needs any money."
1966: Notorious Cream drummer Ginger Baker collapses while on stage at a Sussex University gig in England, just after completing his epic 20-minute solo on 'Toad.'
1971: Led Zeppelin II was enjoying its 100th week on the UK album charts. It was the band's first album to hit number 1 in the US, knocking The Beatles' Abbey Road twice from the top spot.
1985: Little Richard passes out behind the wheel while driving his sports car in West Hollywood and runs into a telephone pole, seriously injuring him and forcing him to miss his induction in the Rock and Roll Hall of Fame.
1987: Promoting their space-themed Afterburner album, ZZ Top book three seats on the first passenger flight to the moon. The lads are still waiting for that flight to leave.
1988: Pink Floyd's 'Dark Side Of The Moon' finally drops out of the Billboard Hot 200 Album Chart after a record breaking 741 weeks.
1989: After Rolling Stone Ron Wood suggested the Who were reforming for the money alone, the Who's guitarist Pete Townshend said: "Mick needs a lot more than I do. His last album was a flop," referring to the Stones' unsuccessful album Dirty Work.
2003: Coldplay singer Chris Martin asked Australian police to drop a charge of malicious damage after allegedly attacking a photographer's car. Martin was charged in July after breaking a windscreen with a rock after being photographed surfing.
2006: The Killers started a three week run at number 1 on the UK album chart with their second LP Sam's Town.
2007: Arctic Monkeys were named the best act in the world at the Q Awards. Best album went to Amy Winehouse's Back to Black and Muse won Best live act. Manic Street Preachers won the award for the year's top track for 'Your Love Alone is Not Enough' and 'Ruby' by the Kaiser Chiefs won best video. The icon of the year went to Sir Paul McCartney and Lifetime achievement award went to Johnny Marr.