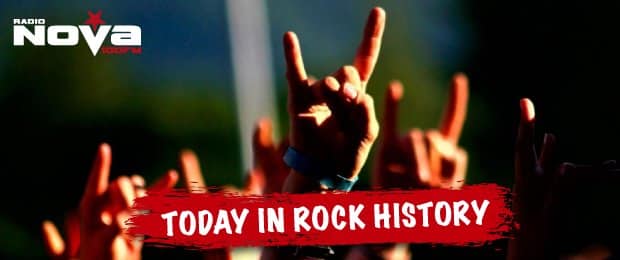 It's important to know your rock history, here at Radio NOVA we bring you ten rock stories from the sixties, seventies, eighties, nineties and the noughties.
On this day in rock history: September 26th.
1961: Folksinger Bob Dylan lands his first major gig, opening for the Greenbriar Boys for two weeks at Gerde's Folk City in New York. Critic Robert Shelton of the New York Times wrote: "Bob Dylan is one of the most distinctive stylists to play in a Manhattan cabaret in months… there is no doubt that he is bursting at the seams with talent… Mr. Dylan's voice is anything but pretty."
1965: Saw some fisticuffs on stage at a Who gig. During a show in Denmark at the end of their European Tour, guitarist Roger Daltry punched drummer Keith Moon. Daltrey was sacked but was reinstated the following day.
1967: Pink Floyd played the first of three nights at the Fillmore in San Francisco, the groups first ever live dates in the US.
1968: Rolling Stone Brian Jones was fined £50 with 100 guineas cost after being found guilty of possession of cannabis.
1970: Motown announces that its newest singing sensation, the Jackson 5, have sold ten million records worldwide in just nine months.
1970: Returning to Abbey Road studios in London, ex-Beatle John Lennon begins work on his first proper solo album, John Lennon / Plastic Ono Band .
1987: Michael Jackson began a six-week run at No.1 on the US album chart with Bad. Released nearly five years after Jackson's previous studio album, Thriller, Bad went on to become the world's best-selling album having sold between 30 to 45 million copies worldwide. The album produced five US No.1's, the first album to do so.
1996: Police found drugs hidden in a Smarties tube when they raided the London home of Paula Yates and INXS singer Michael Hutchence. The couple were away in Australia at the time of the raid.
1997: The Irish Independent Radio Commission placed a ban on radio stations playing any songs by Eurovision Song Contest winner Dana. It was seen to be giving her an unfair advantage during the current election campaign she was involved with.
And finally in 2003: A report published on requests by artists to venues of their backstage requirements revealed: Limp Bizkit insisted that all the lamps in their rooms be dimmable, Van Halen requested that back-stage celery is trimmed and not peeled and the Red Hot Chili Peppers asked for a meditation room and a selection of aromatherapy candles.