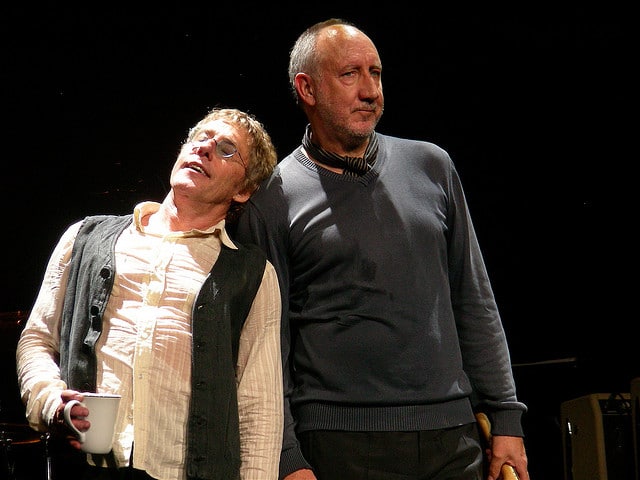 The Who reveal their first track in eight years titled 'Be Lucky,' taken from their upcoming new compilation album.
Pete Townshend and Roger Daltrey are celebrating 50 years together this year and to commemorate this momentous occasion they are releasing a double-disc record called Who Hits 50!.
The new song is produced by longtime Manic Street Preachers producer Dave Eringa and it gives a shout out to both AC/DC and the electronic french duo Daft Punk.
The Who Hits 50! is released in November, and features the band's first new music since 2006's album Endless Wire.
Townshend and Daltrey recorded the track with their touring band, Zak Starkey on drums, bass player Pino Palladino and Mick Talbot of the Style Council and Dexys Midnight Runners played keyboards.
In a nod to the Aussie rockers, Daltrey sings "If you want to want to sell, you've got to kiss and tell, and you've got to do a cover of 'Highway to Hell.'"
All royalties from the new song will go to Teen Cancer America, a charity founded by Daltrey and Townshend in 2011.
More new material might be on the way, Daltrey said "Pete's got hundreds of songs. He wants to make an album and I'm always ready and raring to go. I don't see why we wouldn't – my voice is still in good shape. The hearing isn't so great, but the voice is fine."
The Who's 50th anniversary tour kicks off in Dublin on November 26th at the 3Arena, it features songs which Pete Townshend describes as "hits, picks, mixes and misses".
Listen to 'Be Lucky' below.
The Who Hits 50! track list:
Disc 1:
01. Zoot Suit (The High Numbers)
02. I Can't Explain
03. Anyway Anyhow Anywhere
04. My Generation
05. Substitute"
06. The Kids Are Alright
07. I'm A Boy
08. Happy Jack
09. Boris The Spider
10. Pictures Of Lily
11. The Last Time
12. I Can See For Miles
13. Call Me Lightning
14. Dogs
15. Magic Bus
16. Pinball Wizard
17. I'm Free
18. The Seeker
19. Summertime Blues (live)
20. See Me, Feel Me
21. Won't Get Fooled Again (single edit)
22. Let's See Action
23. Bargain
24. Behind Blue Eyes
Disc 2
25. Baba O' Riley
26. Join Together
27. Relay
28. 5:15
29. Love Reign O'er Me
30. Postcard
31. Squeeze Box
32. Slip Kid
33. Who Are You
34. Trick Of The Light
35. You Better You Bet
36. Don't Let The Coat
37. Athena
38. Eminence Front
39. It's Hard
40. Real Good Looking Boy
41. It's Not Enough
42. Be Lucky