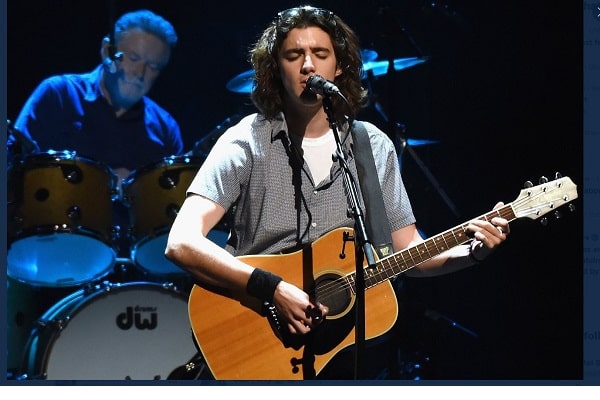 Deacon Frey has performed with the Eagles at their two recent European gigs as a special guest.
Deacon who is the son of the late Eagles rocker Glen Frey, first appeared with the Eagles at their gig at Arnhem in the Netherlands on June 17.
https://www.youtube.com/watch?v=qoBsec6E36o
It was also reported that Frey joined the band on stage for their gig in Liverpool three days later on June 20.
Wearing the famous red Liverpool shirt, Deacon joined the band for a live rendition of 'Take It Easy', 'Already Gone' and 'Peaceful Easy Feeling'.
Deacon Frey's performances with the Eagles on stage come after it emerged that he had left the band as a touring member in April. He had served with the band since 2017.
This news was confirmed by the Eagles' co founder Don Henley.
"Deacon Frey has devoted the past four and a half years to carrying on his father's legacy and, after some weeks of reflection, he now feels that it is time for him to forge his own path",  he said.
"In the wake of his dad's demise, Deacon, at age 24, did an extraordinary thing by stepping from relative anonymity into the very public world of his father's long illustrious career".
"We are grateful to Deacon for his admirable efforts and we wish him well as he charts his future. Deacon's Eagles Family will always be here to surround him with love, support and goodwill, and he is always welcome to join us onstage at any future concerts if he so desires. We hope our fans will join us in wishing Deacon the very best as he moves into the next phase of his career".
Eagles Are "glad to be here"
During the band's gig at Arnhem, Don Henley had this message for the audience.
"We are glad to be here", he said. "At this stage of the game, we're glad to be just about anywhere. There's not gonna be much talking. No fireworks, no wind machines. No butt-wagging choreography. Just a bunch of guys with guitars". 
The Eagles also performed 'Hotel California' at their gig at Liverpool's Anfield stadium. Check that out below.
https://www.youtube.com/watch?v=-ZFn-ZUt3yA&t=2s