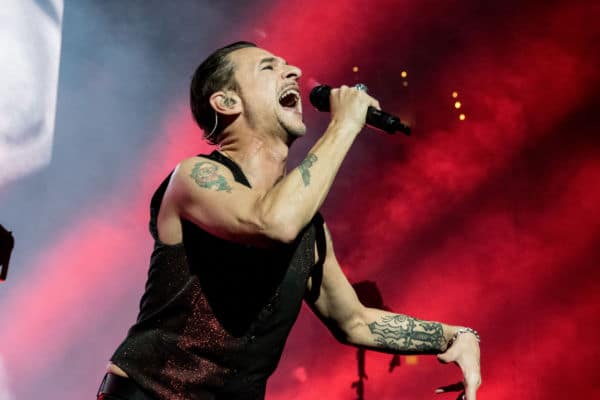 Would you like to listen to the article instead of reading it?
Last Thursday (March 23), Depeche Mode took to the stage on US soil for the first time in 5 years.
The band kicked off their brand new tour, which will see them perform at venues across North America, and Europe, including cities like Paris, Berlin, Milan, London.
Depeche Mode will also take to the stage at Dublin's Malahide Castle on June 14.
Last Thursday's show saw the band perform at Sacramento's Golden 1 Center, where they performed a range of classic hits, as well as tracks from their recently released 15th studio album 'Memento Mori', which is due to arrive next Spring.
'World In My Eyes'
One of the outstanding elements of Depeche Mode's performance at Thursday's concert was the powerful tribute to their late keyboardist Andy Fletcher.
Fletcher passed away from an "aortic dissection" last May, and this tour will mark the band's first one without him.
Halfway through their live set, Depeche Mode performed 'World In My Eyes', with a huge black and white picture of Fletcher on the screens as Dave Gahan and Martin Gore played in front of the audience.
'World In My Eyes' was a particular favourite of Fletcher's, and afterwards Gahan dedicated the performance to the late keyboardist.
Check out this performance for yourselves below.
Following an exciting set of performances from their back catalogue, Depeche Mode's Dave Gahan and Martin Gore closed out their night with a set of classic tracks.
This set did not come before an emotional duet 'Waiting For Tonight' from Gore and Gahan.
The band performed 'Personal Jesus', 'I Just Can't Get Enough', and 'Never Let Me Down Again'. 
The live set included the following tracks.
1. "My Cosmos Is Mine"
2. "Wagging Tongue"
3. "Walking in My Shoes"
4. "It's No Good"
5. "Sister of Night"
6. "In Your Room"
7. "Everything Counts"
8. "Precious"
9. "Speak to Me"
10. "A Question of Lust"
11 "Soul With Me"
12. "Ghosts Again"
13. "I Feel You"
14. "A Pain That I'm Used To"
15. "World in My Eyes"
16. "Wrong"
17. "Stripped"18. "John the Revelator"
19. "Enjoy the Silence"
20. "Waiting for the Night"
21. "Just Can't Get Enough"
22. "Never Let Me Down Again"
23. "Personal Jesus"