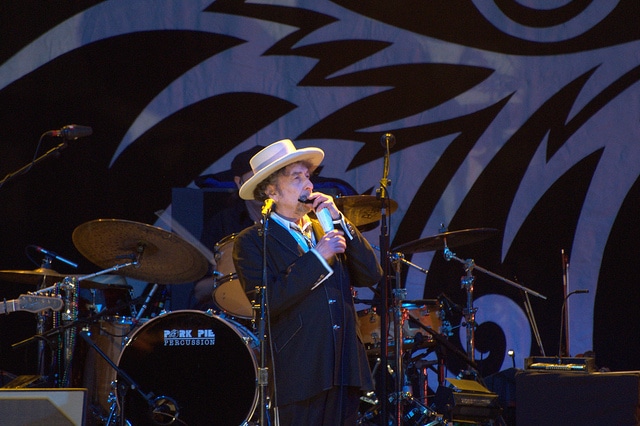 After appearing in Paul McCartney's video 'Early Days', actor Johnny Depp will now feature on a new album based on the lost lyrics of Bob Dylan.
The Pirates of the Caribbean star will play guitar on the new Dylan record Lost on the River: The New Basement Tapes. He will be joined by Elvis Costello, Jim James singer of My Morning Jacket and Mumford & Sons' lead singer Marcus Mumford.
Depp's presence on the album is one of those 'right place, right time,' stories. Originally, the actor had just gone to visit his friend T Bone Burnett, at Los Angeles' Capitol Studios. Burnett was the producer of Lost on the River: The New Basement Tapes.
Depp had gone to to catch some of the song rehearsals but ended up being asked to play guitar on the song 'Kansas City', because Elvis Costello had been delayed at a concert.
The album will feature unreleased songs and unused lyrics from Dylan's 1967 'Basement Tapes' sessions. Producer Burnett told the Los Angeles Times, "these are not B-level Dylan lyrics. They're lyrics he just never got around to finishing," he said.
Speaking about the making of the 'lost lyrics' album, Burnett said:
"Great music is best created when a community of artists gets together for the common good. There is a deep well of generosity and support in the room at all times, and that reflects the tremendous generosity shown by Bob in sharing these lyrics with us."
The new album coincides with a new documentary named 'Lost Songs: The Basement Tapes Continued', written and directed by Sam Jones. Jones told NME:
"The discovery of these previously unknown Bob Dylan songs that were thought lost since 1967 is the stuff of Hollywood fiction and a find of truly historical proportions, it is a unique opportunity to film T Bone and these great artists as they collaborate with a young Bob Dylan, and each other, to create new songs and recordings. These days and nights in the studio have been nothing less than magical."
Johnny Depp is no stranger to Bob Dylan's material, having previously recited Dylan's lyrics in the film 'Blow'. The scene takes place in court, while trying to defend himself against drug trafficking offences, he quotes 'It Ain't Me Babe', trying his best to charm a judge, saying:
"You say you're lookin' for someone, who's never weak but always strong, to gather flowers constantly, whether you are right or wrong, someone to open each and every door, but it ain't me, babe, no, no, no, it ain't me, babe."
Watch the scene below.
Lost on the River: The New Basement Tapes are scheduled to be released in Autumn.