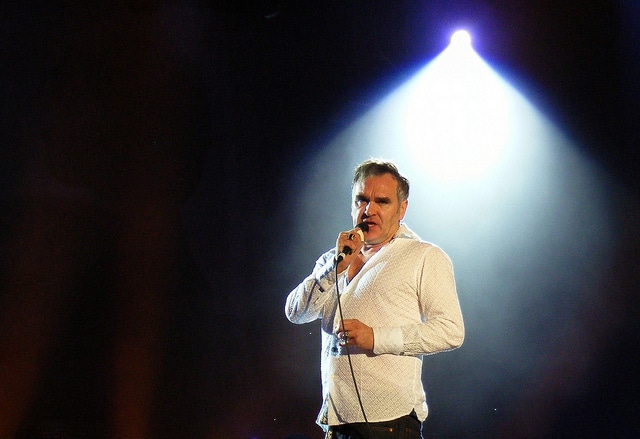 At First we had Morrissey's former bodyguard, Bradley Steyn, claiming he had been sacked by Moz for refusing to 'hurt' David Tseng, the creator of the Morrissey-solo.com fan site. Steyn added that Morrissey's tour manager inquired if the website operator "could be gotten rid of."
Then the singer rubbished the accusations, stating "I cannot admit to actually "knowing" Bradley Steyn. He has "walked off" three Morrissey tours. My personal involvement with him has been zero, and he has certainly never been Head Of Security on any Morrissey tour," he said.
Catch up with the full back story on Nova's website here.
Now we finally get to hear from the alleged target of these plots. David Tseng has answered email questions from avclub.com.
It begins with The A.V. Club asking:
A.V. Club: You've been a Morrissey fan for decades. (And for complete transparency I should note that you and I have been acquainted for nearly as long.) I know you met him several times over the years. Was he ever a fan of what you were doing with Morrissey Solo?

David Tseng: I don't recall him ever saying he was a fan or liking the site, in a 2002 Janice Long interview he did say it was a "great" site but at the same time he said that he "never logged on" to it.

A.V. Club: Can you point to a particular incident that led him toward disliking you and the site? Was it the rumors about him not paying his band, or did it go back further than that?

David Tseng: I don't know if it was that specific incident or any other, but I think the general open and critical nature of the site doesn't sit well with him. His recent statement that I "give maximum and inexhaustive publicity to anything said in the negative" is ridiculous. I highlight items of interest, whether they are considered positive, negative or neutral doesn't matter.

A.V. Club: Were this morning's reports about Bradley Steyn the first you'd heard of this supposed plot against you? Do you put any stock whatsoever in Steyn's allegations?

David Tseng: Yes, this was the first I had heard of it. I am of course concerned about the allegations but I don't know any details. I had never heard of Bradley Steyn before so it's hard to say one way or another about how credible he might be.
Read the full email exchange here.