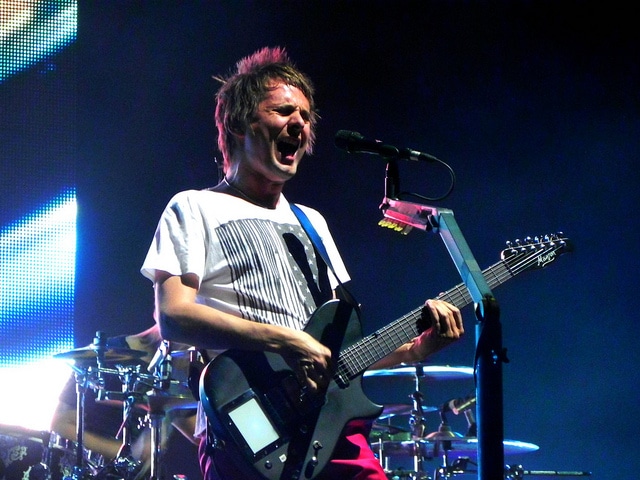 Muse's frontman, Matt Bellamy, has pledged to 'Get Heavy' on the new album, expected to be released next summer.
Bellamy was doing a Twitter Q&A, and announced that the new record was "going well." When asked "are you sticking to your 'going back to guitar/drums/bass' or was that just Matt being a tease?" The singer responded: "yes. It's gonna get heavy."
During the Twitter Q&A, Bellamy also promised Muse fans to expect some surprises. He posted a photo of video director Tom Kirk, who has 15 years of Muse archive footage, saying "YouTube will be inundated soon!" Bellamy went on to tease, "All sorts of tape labels 'Dominic in hospital/guitar hit him/bologna 2004', 'Torquay concert 2000' & my favourite: 'girl pukes on bus in Turkey.'"
The upcoming album will be Muse's seventh LP. According to NME the band began recording the album back in May. When asked how the record will sound, compared to their 2012 electronic influenced The 2nd Law, Bellamy said:
"I have a strong feeling that he next album should be something that really does strip away the additional things that we've experimented with on the last two albums, which is electronics, symphonics, and orchestral work and all that kind of stuff."
Muse are celebrating the band's twentieth anniversary, Matt Bellamy posted a picture of Muse back in 1994 to mark the occasion. The special anniversary tweet was retweeted 1,700 times and has sparked rumours that the group might be gearing up for an anniversary tour.
Frontman Bellamy discussed some of his influences for the new LP with KROQ, the singer said:
"I kind of thought I'd write purer music if I didn't have any outside influence at all…I've gone back, I'm listening to a lot of music, especially classic rock music, which I haven't listened to for a very long time. I'm getting really back into that."
The English rockers claimed, they want the next LP to sound like AC/DC's  "Back In Black." Not a bad choice lads.