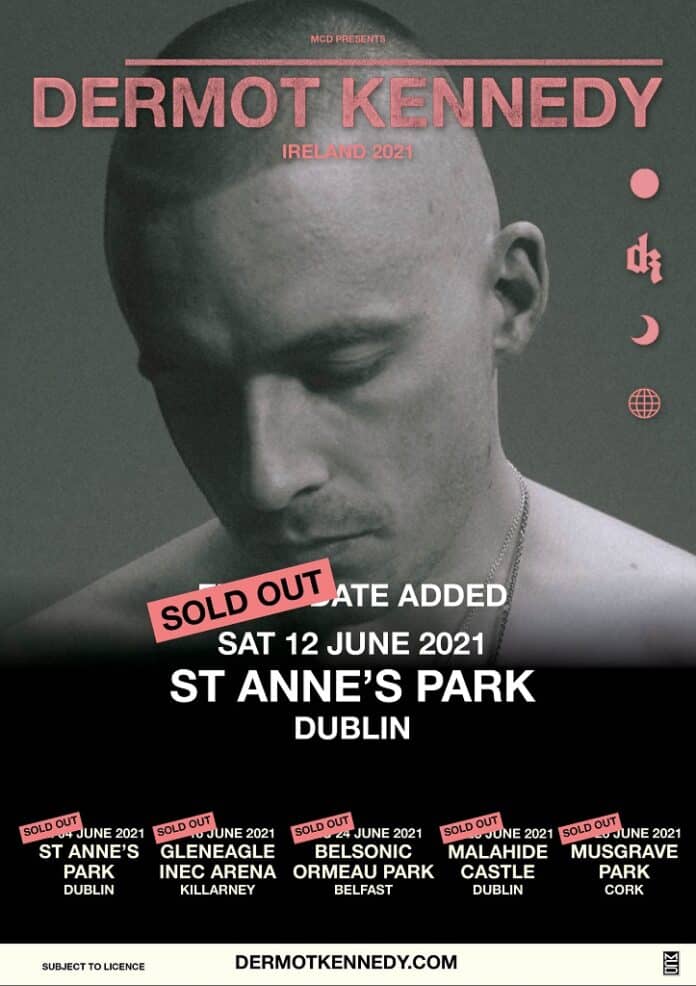 MCD Productions have announced that tickets for Dermot Kennedy's extra concert at St. Anne's Park Dublin on 12th June 2021 has sold out following their 9AM on-sale despite some fans encountering Ticketmaster technical issues.
Dermot Kennedy has become one of the biggest and fastest selling live artists ever with over 112,000 tickets sold for his 2021 Irish dates.
His 2020 debut album 'Without Fear' has spent a total of 12 non-consecutive weeks at the Number One spot on the Irish Album Charts.
Just last week, Dermot Kennedy made history when he took the #1 slot in both the Official Irish Singles & Album chart with 'Giants' and 'Without Fear'.
From booking his own gigs in Dublin and London very early on, his live shows are now a worldwide phenomenon, selling out arenas and headlining major festivals across the globe.
He has appeared on The Graham Norton and Jonathan Ross Shows in the UK as well as several major US shows including The Ellen Show, The Late Show with Stephen Colbert and Jimmy Kimmel Live.
2021 sees Dermot set to perform his biggest sold out shows to date, including two nights at London's Alexandra Palace, eight huge sold out concerts across Ireland and a night at the legendary Red Rocks Amphitheatre in Colorado, USA.
*Friday 04 June 2021 – St. Anne's Park, Dublin – Sold Out
*Saturday 12 June 2021 – St. Anne's Park Dublin – Sold Out
Monday 14 June 2021 – Gleneagle INEC Arena, Killarney – Sold Out
Tuesday 15 June 2021 – Gleneagle INEC Arena, Killarney – Sold Out
Wednesday 16 June 2021 – Gleneagle INEC Arena, Killarney – Sold Out
Thursday 24 June 2021 – Ormeau Park, Belfast – Sold Out
*Friday 25 June 2021 – Malahide Castle, Dublin – Sold Out
*Saturday 26 June 2021  – Musgrave Park, Cork – Sold Out