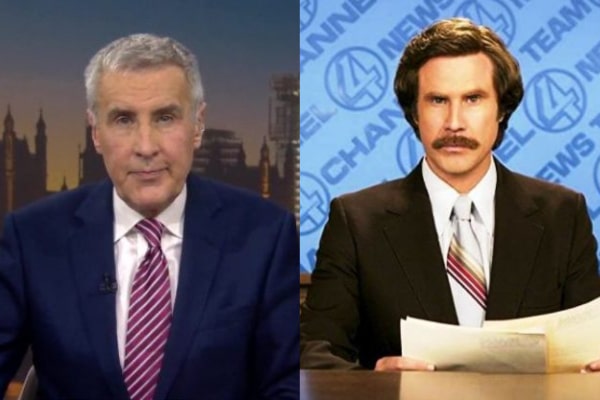 The veteran news journalist Dermot Murnaghan has signed off at Sky News after 15 years by channelling his inner Ron Burgundy from Anchorman.
The 65-year-old broadcaster signed off with "stay classy, planet Earth", paraphrasing actor Will Ferrell as the titular character Ron Burgundy from the popular 2004 movie release.
Murnaghan's last remarks as a Sky News Tonight newsreader on Tuesday also drew laughter and claps from his co-workers.
"Finally, as the saying goes, some news about me. After 15 years this is my final programme for Sky News, the best organisation in the UK, which you already know for its coverage and analysis and also its dedicated, inventive, hard-working staff, so many of whom have become close friends.
"And I want to say thanks to you all for putting up with me and supporting me so resolutely through elections, resigning prime ministers and monarch's funerals but of course, my greatest thanks goes to you, the viewers.
"You make Sky News, you are Sky News, your engagement, encouragement and feedback have been invaluable over my time here.
"I hope that I've managed to serve you well. It has been an absolute privilege. Thanks for making this career so worthwhile.
"I leave you with – always wanted to do this – a last look at the headlines, there they are."
The Ulsterman then showed the audience his news notes before tossing them from his desk, and adding: "You stay classy, planet Earth, goodbye."
The 2004 movie saw funny man Will Ferrell play Burgundy a ridiculous over-the-top 1970's US 'news anchor' who signed off his bulletin by telling his city audience "I'm Ron Burgundy, you stay classy, San Diego."
Before joining Sky News, Murnaghan presented ITV's News At Ten and the BBC Ten O'Clock News – now known as BBC News At Ten – as well as Channel 4 News.
Murnaghan has also hosted the BBC's quiz programme Eggheads, which is now led by Jeremy Vine.
He has also presented Sky News At Ten and Murnaghan, a talk show similar to Sophy Ridge On Sunday on Sky News, before his last role at the station as a newsreader on Sky News Tonight.