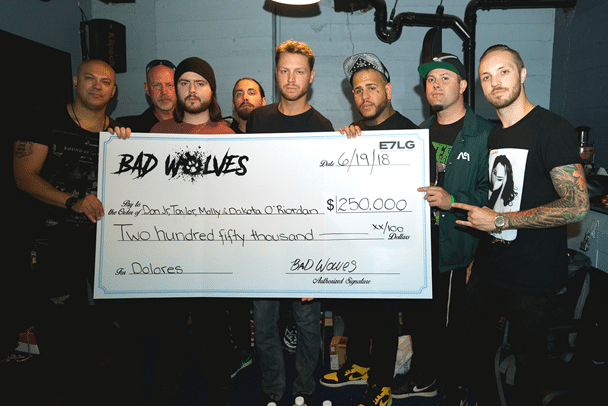 On Tuesday night June 19th at New York City's Gramercy Theatre, US Rockers, Bad Wolves presented a $250,000 cheque to Dolores O' Riordan's family onstage prior to a performance of 'Zombie'.
O'Riordan's two sons, Donny Jr. and Taylor Burton, alongside their father, Don, were presented with the gift in an emotional moment. The cheque was also accepted on behalf of their younger sisters, Molly and Dakota Burton. O'Riordan was set to record vocals on the track on the day of her tragic passing.
In advance of their debut album, Disobey, the band released 'Zombie' as a single, with the commitment to donate their proceeds to her four children. The unprecedented global success of 'Zombie' has resulted in the band raising $250K with a promise for more!
Bad Wolves frontman Tommy Vext reflected on the amazing gesture: "Our sadness the day Dolores passed was nothing compared to that of her children and her family. In light of the tragedy, donating our proceeds to her children was the only thing that made sense. The ultimate goal is to present them with a $1,000,000 cheque – and the fact we're a quarter of the way there is beyond incredible."
"The connection that people have to this song, the stories, the memories and the kids who are hearing this song through Bad Wolves for the first time – it's a true testament to the timelessness of their mother's songwriting that will live on forever, and we are so grateful to be able to do this for them."