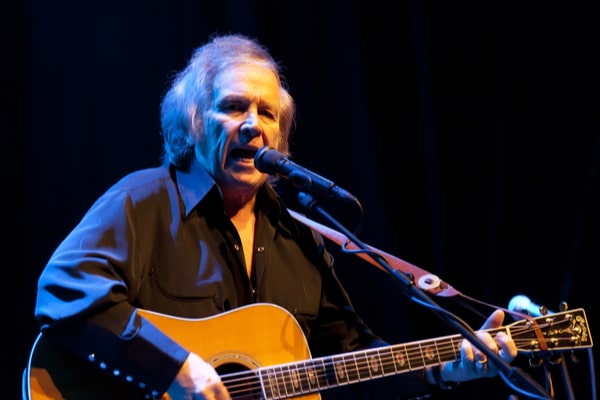 Don McLean has said that his childhood diagnosis of asthma stopped him from drinking "himself to death".
Speaking in a recent interview, Don McLean said that he could have gone down a very different path if it had not been for his condition which kept him out of school.
McLean also spoke about the longstanding success of his track "American Pie". Arriving in 1971, McLean celebrates 50 years since its release this year.
Next year will also mark 50 years since McLean's single reached number one in the US Billboard Charts.
To mark this occasion, McLean and his band will embark on a number of shows, starting in Hawaii in late January and through North America, the UK and Europe.
He also said in a statement, "After spending the past 18 months at home, I am thrilled to be getting back on the road with my band". 
Find out how you can get your hands on tickets for these shows here.
"Children are all naturally creative – until school knocks it out of them", McLean also claimed. "They sing, they paint, they invent stuff". 
"develop another Don McLean"
Don McLean detailed some of the perks to being diagnosed with asthma.
"One of the advantages of having asthma is that it kept me out of school for long periods for many years. I was able to develop another Don McLean that wasn't programmed by the school system", he said.
McLean continued, "If I'd been perfectly healthy and a good student or athlete, I'd probably be dead now because I would have been a really boring person at a bank somewhere who drank himself to death". 
He also spoke about losing his father, who passed away when he was 15. He also revealed that he was still able to pursue his career in music following his death.
"For some reason my father was adamantly opposed to show business. He thought that was for some sort of lesser man", the singer added.
"I was very sad when my father passed away, but I also realised I could do anything I wanted without worrying about my father turning against me, which he certainly would have done". 
Earlier this year, Don McLean was also accused of emotional and mental abuse by his daughter Jackie.