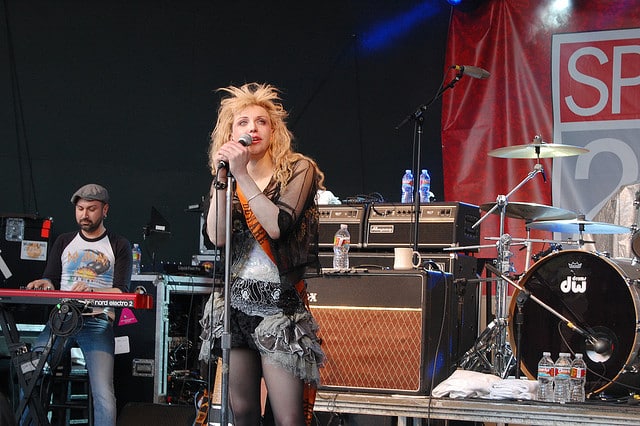 During a rock concert over the weekend, an idiotic man decided to hurl a beer can at singer Courtney Love.
The incident took place during a gig in Adelaide, Australia. Courtney was performing with her band, when a beer can was thrown at her.
This was not a smart thing to do, if this 'supposed' fan knew anything about Courtney Love, he'd know she has an explosive temper and never backs down from a fight.
She's had a history of volatile relationships and is no stranger to getting into feuds with other musicians. Love has apparently not spoken with her father, Hank Harrison, since she was fifteen, she fought constantly with former boyfriend Billy Corgan and famously feuded with Guns & Roses' singer Axl Rose.
Immediately after the can landed on the stage, Love started a foul-mouthed rant at the man. "In 20 years, no one's thrown a beer can at me except for you, f**ker," Love said.
Next, she questioned the guy's manhood, holding her finger and thumb roughly one inch apart, "Your weenie must be this f**king big," she said.
Love was dishing out rock justice, to this moron, there's nothing like being humiliated publicly in front of thousands of people. Courtney continued with a non-stop bleep inducing, expletive-filled rant, before adding, "DO NOT DO IT AGAIN."
"What a piece of sh*t" she said in disbelief, "Throw it at me next time. We'll have fun," she concluded with a devilish smile.
Watch the exchange below.
Courtney is currently on a solo tour around Australia and will be performing in Melbourne, Sydney, Brisbane and Canberra over the next two weeks.