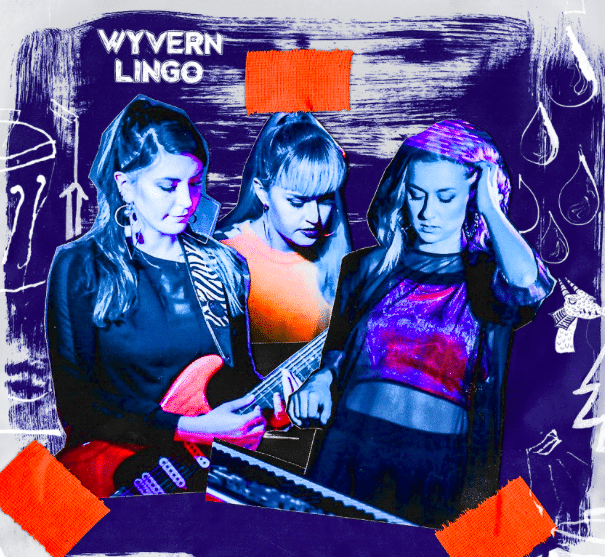 Bray trio 'Wyvern Lingo' have taken the Irish Music Industry by storm in the last year. Their debut album 'Wyvern Lingo' drops this Friday, with the girls playing a sold-out show in The Button Factory the same night. If you didn't manage to get a ticket for the gig, never fear, as they'll be playing a pop-up gig in Tower Records, Dawson Street at 5.30pm on the same day. Get on down!
If you can't make it to either of the gigs, make sure you catch them on RTE2 tonight at 11.15pm, where they'll appear on 'Other Voices'.
💫 Yes, I wanna give my love to you. 💫
We've got @WyvernLingo on the show this Thursday night! @RTE2 + @RTEplayer | 23: 15 | 22.02.2018 pic.twitter.com/2GIanOIJCr

— Other Voices (@OtherVoicesLive) February 19, 2018
The hugely talented band is made up of Karen Cowley – Keys/bass/synth/vocals, Saoirse Duane – Guitar/vocals and Caoimhe Barry – Drums/vocals. They recently sat down with HotPress to discuss the band name, harmonies and their very bright future in music.
'How did we pick the name?' muses Caoimhe. 'Well, we've been friends since we met, around the start of secondary school. We picked the name around then, and we just landed on a word in the dictionary: 'Wyvern'. It's a pretty epic word, so we thought, 'We really can't leave that behind, it's meant to be'. But we're also big into Game of Thrones and Lord of the Rings and stuff, so we weren't so against the dragon vibe. Although I think people might think we're a heavy metal band when they hear the name.'
Speaking about the  upcoming record, they describe the songs as a 'collection of experiences both separate and shared. Experiences that shape how we view the world, and how we've come to terms with the way our lives have unfolded. It's experiences, little pockets of experiences.' Karen explains. 'I mean, we can't write good music unless it comes from somewhere sincere. Lyrically anyway, I think all of our best songs are from things that moved us, or something that happened, or a conversation we had or a moment in time.'
If you can't wait till Friday for their music, you can listen to it here. And as if that wasn't enough sweet music for your ears, check out this deadly remix of their track 'Out Of My Hands' from Newbridge Producer/DJ Conor C:
Irish music is seriously bursting at the seams with talent right now and we're excited to see what else is to come!